Alchemy – a seemingly magical process of transformation, creation, or combination.
Phenomenal World gets to experience the magic on the rooftop of Chancery Pavilion. Alchemy, the new restaurant setup on the 10th floor has swanky interiors that addresses the young and trendy at the same time caters to a family as well. With Chef Hari Nayak at the helm, this is one place you must check out. They did get the definition right.
Alchemy Ambience
The ambience is avant garde and rustic at the same time.  The bamboos gives a rustic feel but the whole place looks chic. Quite an achievement getting the balance of both. The bar area which is open air and addresses the new kids on the block, has quite  a view.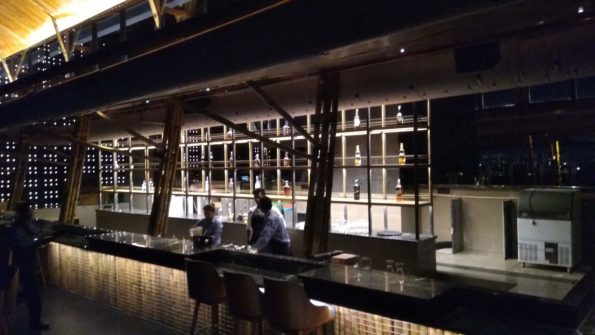 Alchemy gives Bangalore another brewery
We have a number of micro-breweries mushrooming all over. These are usually dominated by European or American flavors. Alchemy brings in  ANZ flavors to the table.  With Australian yeast and Kiwi Hops giving 6 different types of beers,  lets see what they have to provide.  I am "hopping" it will be ready by the first week of Aug 🙂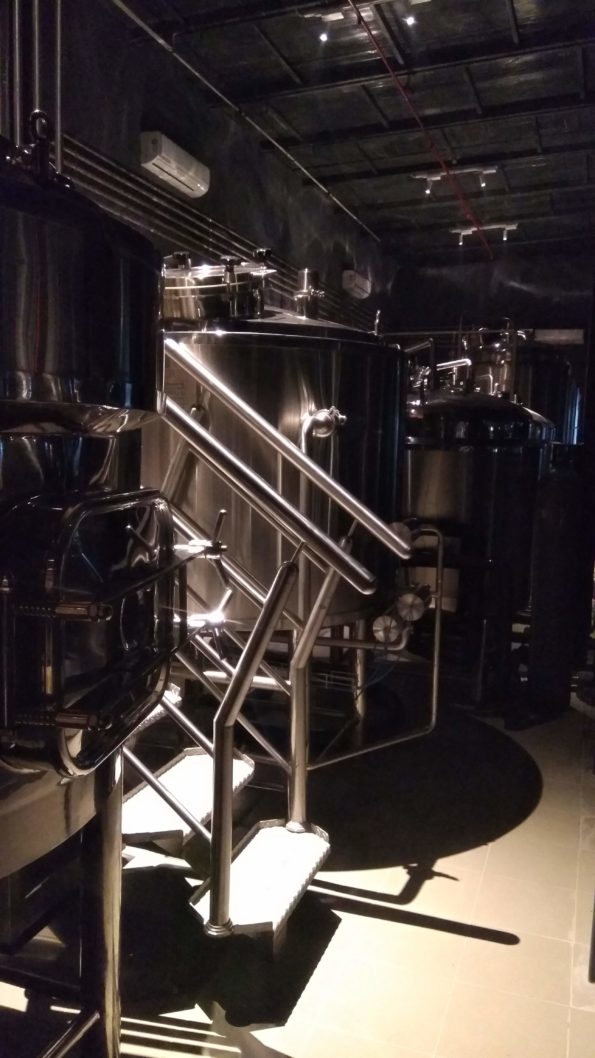 What We Wolfed & Slurped at Alchemy?
With all the fusion foods being done to death in restaurants with most being just an eye candy, this place brings a refreshing twist to the palate. As mentioned with Chef Harinayak at the helm there is a lot of experiments using world ingredients to dish out Indian classics. Harinayak has trained under various Michelin Starred chefs and has years of experience in providing differential experience to the customers. He also has 12 books under his belt.
Cocktails
Indian Whisky Sour, French Addiction, Melon Blush and The Ghazal
Loved IWS it had the best balance among the 4.  Scotch, masala and lime sure makes for an interesting combination and an interesting twist to the sour
Starters
Tikki Trio with 3 stuffings:Quinoa beet, Kale & Spinach and Mushroom Galouti.   Not  a big fan of kale (and veg food in general) but the earthiness of the mushroom comes quite close to satisfy the carnivorous tendencies.
Artichoke Aloo Samosa in cones –  The wasabi gives a real kick up your sinuses. A lovely starter
Arbi Tostadas  – I generally don't like Arbi (colocasia) and have  a psychological aversion to it. If my palates identify it, my throat closes automatically. This was some magic that I managed to eat it without an incident.  Good burst of flavors in there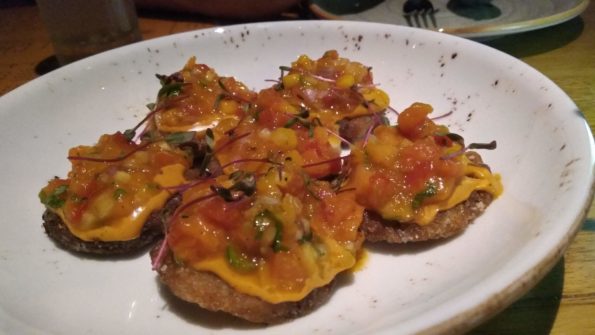 Hickory smoked chicken kabab – Exquisitely done and very succulent chunks. Have that with a whiskey and you are set. Good presentation and comes all nice and smoky
​
Crab Tostada – Typical flavors of Kerala in there with coconut puttu, curry leaf and onion slaw. Brilliant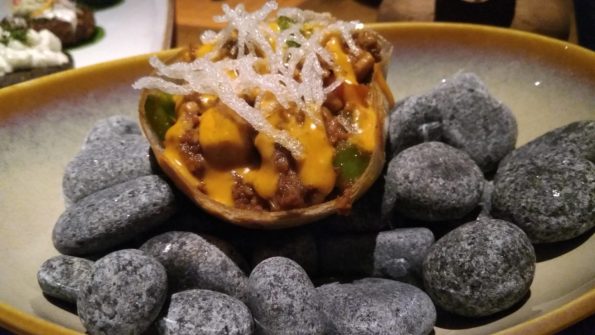 Soups
Fire Roasted Corn Chowder – Interesting take on the popular chowder but the flavors  were a bit off. Loved the presentation though
Mains
Kale saag – With goat cheese dumplings and fox nut crumble, it was an interesting take on the traditional palak paneer. I loved the balance that the dumpling and kale provided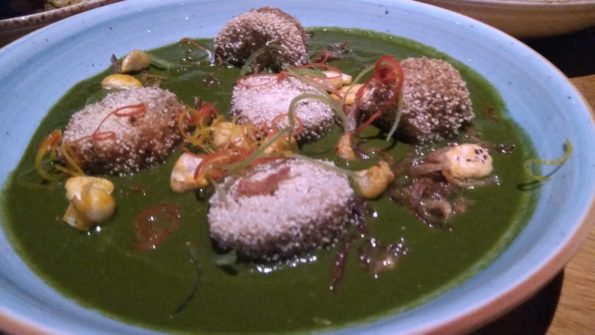 Five Cheese Kofta – I loved this one (who does not like cheese eh?)  another dish that came with green chilli olive stuffing, smoked makhni. The tomato gravy it came with was low bodied and was more of a tomato soup than a gravy. A bit of a disappointment really.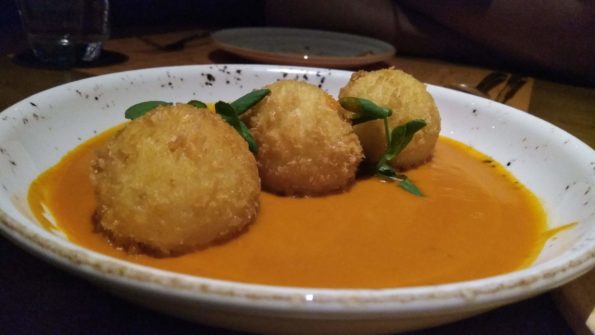 Spring Chicken Bharta with Over Easy Eggs – Nicely done and when you get  a sourdough along, this just satiates you like nothing else.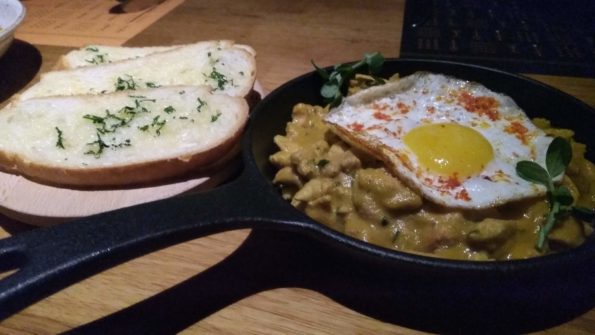 Sides
Jalapeno & Peas Kulcha was an interesting creation with my favourite jalapenos playing a dominant part in the taste,
Lemon Quinoa Chitranna with Fish Fillet (Konkan Curry) – This was a brilliant take on the humble lemon rice. The use of quinoa was bold but the experiment works well. Lovely flavors.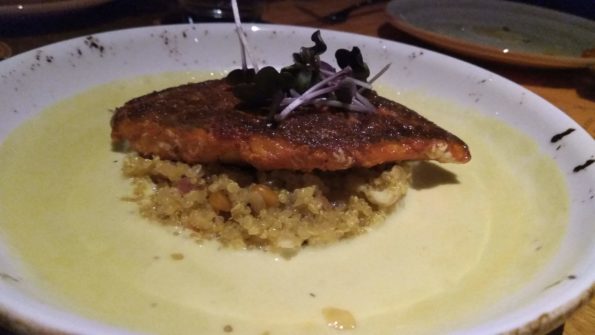 Honeycomb Bread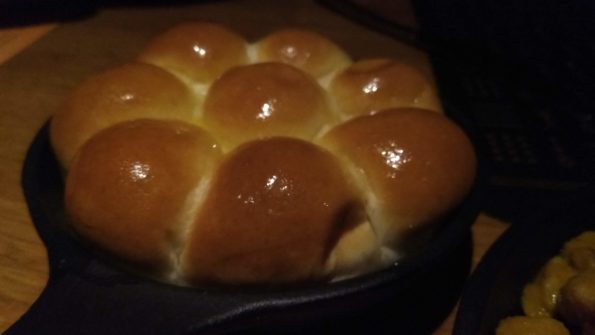 I was too stuffed to try the other breads
Desserts
Gondhoraj Lemon Mousse – Totally rocked my world. Exquisite flavors of the famous and fragrant citron gondoraj popular in the eastern part of India.  It was interesting seeing the freezing of the mousse. Came with lemon creme anglaise
Mysore pak cheesecake – This came with candied cornflakes, the mascarpone will always be my favourite cheese 🙂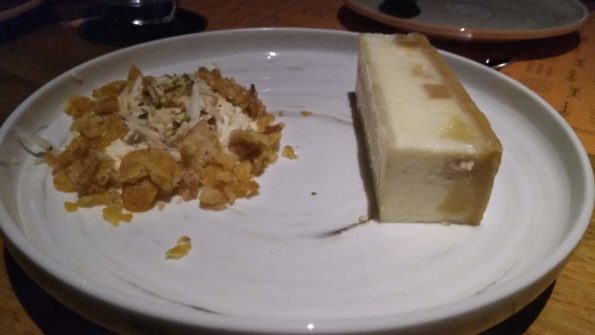 Ending Note
Dining with Harinayak is an experience. His food reflects his journey and it's exciting to be able to relate the food with his life. He took our inputs graciously for some dishes which shows how flexible he is and not one with an orthodox mindset.
I now look forward to the beers next !!
Rating
Goodies