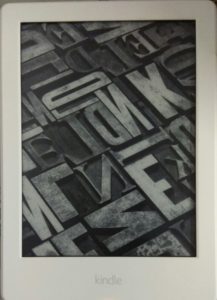 I love reading and my Kindle. I  recently added a second one since both me and my better half are voracious readers.  There is a good sale going on in Amazon and I got the 6″ Glare free touch screen display but in white. This is the 8th generation of the gadget.   I don't think anything else comes close to the versatility this  provides and the Kindle Unlimited (KU) is a huge plus.
The Kindle paper white which I bought for Rs. 5000 does not have any glare and behaves just as any book. It has a good readable print and generally gives me everything including social media connectivity. I especially like the white which is now available.  Call me sacrilegious but since I have run out of physical space at home, I have started reading more in kindle. Now a hundred thousand books occupy 6 inch of space. Here are some frequent queries on Kindle and KU
Queries on Kindle
Q. What  file formats does the Kindle read?
A. Doc, PDF, KPF (Kindle Packaged Format), mobi, azw, HTML (zip, .htm or html). Many of them say the kindle reads epub but frankly it has never worked for me. My favourites are mobi and azw as they are  not file heavy and easily storable
Q. I don't have any of these formats, what do I do?
Use a software called Calibre  which is free for use and can change from any format to supported ones
Q. Can I only read books I bought on Amazon?
A. Not really. When you buy a kindle it comes with a data cable which allows external uploads through the computer. The free apps does not allow this feature.  With the free app available on android or IOS, you can only read books downloaded from Amazon.
Q. Is there a workaround for the free apps?
A. Yes there is.  Every user is assigned a kindle email id (xx@kindle.com) which can be seen in the settings .  You can send the books to this address and it can be downloaded into the app.
Q. Are there free books available out there?
A. Amazon itself has a huge repository of free kindle books and the public domain itself has millions of free books. Look at  Project Gutenberg which has restored and digitized an unbelievable number of books from banned books to classics. If you get the PDF version you can read directly in Kindle but trust me, change it to either mobi or AZW and you will thank me.
Q. My screen broke or does not go to the next screen
A. If is it within the year of warranty you can request Amazon to send you a new piece and return the damaged one. But this is valid for one year only. You can also return your older kindle for some discounts from Amazon. You might have to drive a hard bargain through.
Q. Can I share my Unlimited account with my friends or family?
A. Ideally not an ethical situation to be in. If you are comfortable sharing your personal amazon details with them go ahead. I use two kindle devices one for me and one for my wife which has my account in both so she can take advantage of my kindle unlimited subscription.
Q. There are a lot of e-readers in the market… Why Kindle?
From what I have seen, the versatility of the kindle makes it practical. There are of course android application that lets you read books as well but they do not support offline upload of books. Kindle allows both online and offline addition of books which makes it ideal for me.
Q. Can we take notes?
A. Yes you can!! You can highlight paragraphs and also take notes. How cool is that?
Q. How do I remove documents from Kindle Library?
From Your Content, change the Show drop-down menu to the appropriate category, if needed.

Select the title(s) that you want to delete, and then select Delete.

To confirm, select Yes, delete permanently.
Queries on Kindle Unlimited
Q. What is the cost?
A. The regular price is Rs. 199/- a month but watch out for some great deals. I had to pay only Rs. 1400 for the whole year !!
Q. Is is worthwhile?
If you are an avid reader but a fan of best sellers probably not the best option. I and my wife like to read some obscure books which are available on the unlimited.  It has a lot of popular books. The best part is the large collection of free audio books which are otherwise expensive to purchase. I got to read some of my favourite books and authors for free in KU
Q. Do I need to buy Kindle for Unlimited?
A. No !!!! 🙂    You can enjoy the  KU with  the free Kindle App available for Android or IOS
Q. What happens to the books taken as part of KU when the subscription ends?
The books are no longer available for reading till the subscription is renewed
Q. How many books can I "borrow" at a time from KU
A. Upto 10 books can be borrowed and for every new book the old ones have to be returned or removed from device
Whether its an e-reader or book it's more important that you inculcate the habit of reading.   Saying this I also leave you with another thought

What do you like and why? Leave your comments. If you have some books I can help you with ( I have a huge pile from the free books of Project Gutenberg) contact me at books@phenomenalworld.in and if there are any question you would like me to answer please post it in comments
Linked to ABC Wednesday (S) with Start Reading Now!!