So we were part of an exclusive group of bloggers in the #flipkartOutdoors @ Mango Mist resort organized by Indiblogger. It was fun meeting the usual gang and the new faces as well.  What set it apart was of course the outdoor meet which I feel is so much more better than the closed door ones (but no #Indiblogger meet is ever boring, outdoors or indoors :D). Anyways what also set our expectations was the chance to use/check the latest savvy gadgets available for outdoor purpose.  Check it out and go greeeeeeennnn with envy
Altec Lansing (not part of usage)

Bluetooth headphones with lock that does not leave your ear no matter how much you shake your head.  There was this challenge of loosening the headphones without using hands in 10 secs.  There were a couple who did win but they had to shake their heads like they were possessed 🙂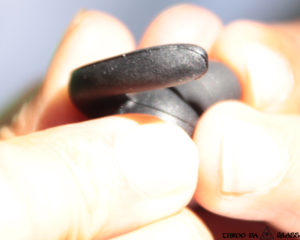 Their beauty was the outdoorsy bluetooth speaker which was demo-ed with water and you could see the water drops jumping with the beat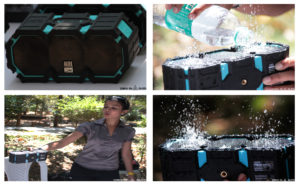 2. Red Chief shoes (Yes I wore it for the entire duration)
Biodegradable shoes made from the carcasses of old shoes including the soles.  I am not generally a big fan of outdoor shoes because it's heavy but this one surprised me with its rugged look but surprisingly light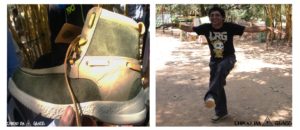 Yeah thats me trying kungfu with the shoe. It is that light
3. Polaroid
Cube – An action camera capable of recording for 90 mins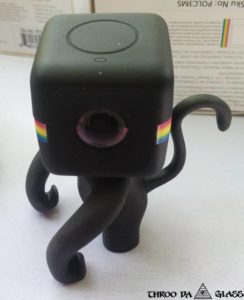 Bluetooth Printer – Print any photos from your mobile in a snap
4. Garmin Watches – These days watches are becoming smarter and smarter (and more expensive!!). These watches do everything including keeping you healthy by counting your calories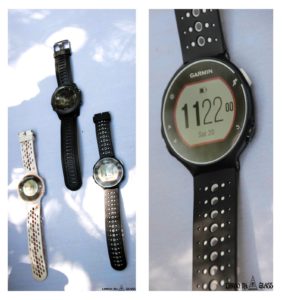 5. Samsung Galaxy S2 watch – If you want to do the same thing as above with elan and panache go for this. It looked so cool and when its off it gives some real creative snaps !!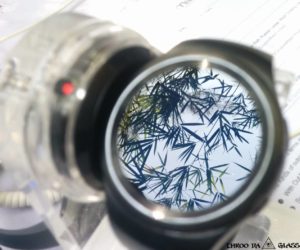 6. Sony
Saw some real good cameras in mirrorless and action. They claim its the fastest camera in the world and I believe it. Keep pressing the shutter and it sounds like a machine gun taking photos at unimaginable speed. It also has an interesting feature of bouncing the flash. The clarity of the photos are mind-blowing as well
Got to try out their action cameras. Somehow mine got heated up and also did not have much battery backup. The other pieces were okay. It is splash proof only so don't throw it into the swimming pool or river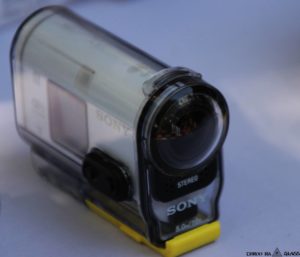 7. Coleman – They have some awesome camping gears including tents, portable johns, water bottles and storages for any drink 🙂 My team was able to assemble the camp in 1:54 mins and that's how easy it is.  I also got a prize for my tweets and for being in the winning team in paintball. Both of which came from Coleman…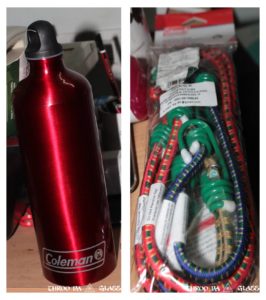 Now coming to the activities,Mango Mist is a corporate favourite for having a host of outdoor activities such as Rock Climbing,Land Zorbing, Burma Bridges, ziplines and of course the mist dance. It's a good a place to have team fun.. Oh yes they have a bar too !!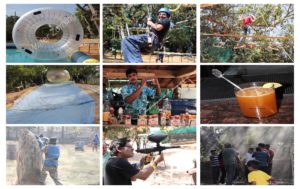 Well those were the phases. Now leaving you with the faces and happy moments…….These pictures are a combination of cameras from the Sony action cam, to my Canon 600D to contributed by others…
Credits – Sid Balachandran, Shantanu Chandra, Fatema Freya, Sachin Prabhu
Linked to ABC Wednesday(G) with G for Going Outdoors