**Click and view snaps in high resolution**
#invite #phenomenalworld #Matsuri #JapaneseCuisine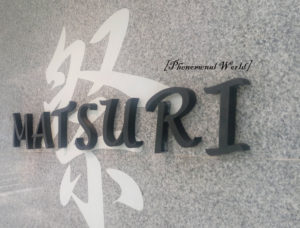 I had been to Matsuri as part of an invite to try out their Japanese menu. It was an offer I couldn't refuse. I have always been enamored by Japanese culture, their philosophy and their strict code of ethics. What ever they do whether it is food, business, sports or poetry, it is all based on philosophy, discipline and simplicity and this was no different
Located in the The Chancery Hotel, Matsuri is in collaboration with Toyota so  you can imagine the quality standards that comes in play for everything from the aesthetics to the food.  The decoration is typical Japanese with an eye for simplicity.  Woodwork and design creating a perfect harmony with a soothing background music. This includes the cutlery, table mats and the upholstery. There were some origami birds included which added to the overall appeal
They have facilities for different kind of seating arrangements from normal restaurant seating to casual community seating and also includes  three private enclosed seating arrangements for corporates.
Beginning with a warm welcome by the team Megumi Nakayama, Ashish Sehgal and Chandrabhan Singh, we were seated facing the entrance as its a Japanese culture of never seating the guests showing their back to the door.   A refreshing mocktail started our gourmet experience.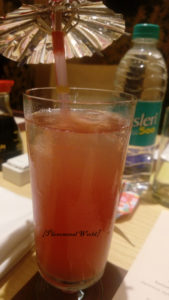 A typical japanese cuisine does not have many courses. So there is no separate phases for soup, starter, entree, main course. All of these is brought together in a box called Shokado Gozen which also includes the soup.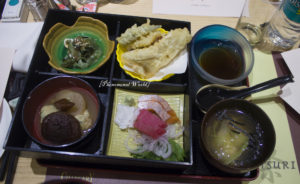 This box had the following dishes
Red Snapper Soup – Spot on in flavors and yet one of the most simple soups I have ever had. Without any spice, this was simplicity at its best.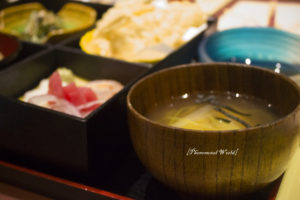 Sunomono and Mizore-su – Japanese styled pickled veggies with a Mizure gravy. Loved the tanginess of this which provided a refreshing flavor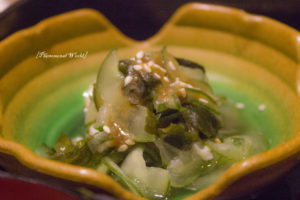 Chicken Tempura – To be taken along with a sesame and soy sauce, the combination provded an interesting flavor. On it's own the tempura is bland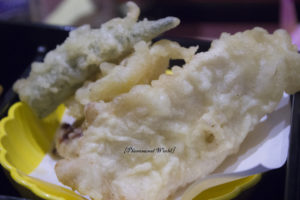 Sashimi – With an assortment of low fish like salmon, tuna and squid, this was very appealing. The wasabi was not the readymades used in other places. It had a natural pungency which added to the soy sauce provided the required zing. I probably would not have been able to eat the sashimi without this.  Since Salmon and tuna have no flavors on their own, dipping them in this soy wasabi combination made it exquisite
Ebi Shinjo, Yasaki takiawase – Shrimp dumpling with radish and shitake mushroom in  a lightly flavored broth. The earthiness of the shitake was unbelievable and took this dish to another level. The dumpling was beautifully prepared.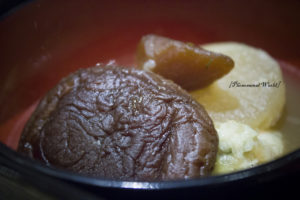 Then came the Matsuri-Sushi Moriawase, an assorted plate of sushi with wasabi and pickled pink ginger. The pink ginger and wasabi again providing the zing to the sushi.  Lovely dish with all the individual flavors, of the fish, the rice and the nori coming through
Odawara-musho turned out to be a pleasant surprise. Though the menu mentioned egg custard and I automatically related it to a sweet, this turned out to be a thick savoury custard with shrimp and udon noodles. Delicious but too heavy after the previous items. I would suggest the quantity be reduced. This is a very deceptive looking filling dish.
The pièce de résistance of this meal was definitely the Fruit Creme Mitsumame. Crystallized and jellied seaweed with icecream, a sweet gel of beans and fresh fruits. Absolutely exquisite and definitely a must try.
Through out the meal we had Executive Chef Yuki Okano, explaining the dishes and the philosophy behind it.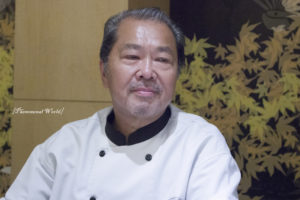 He is also licensed to slice and make sushi of the Pudu, a very poisonous fish found in Japan. The poison of the Pusu can apprently kill 10 people and required very skillful handling and removal of the posionous parts of the fish. Inspite of that he is a very down to earth and humble person. It was a pleasure interacting with him. He somehow reminded me of  Pat Morito as Okinawan in the Karate Kid 🙂  When it comes to food he is definitely a sensei.
All of this wonderful experience ended with a delicate Japanese tea which was a fitting end to this remarkable journey.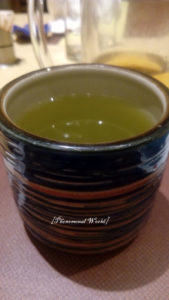 Matsuri means Festival in the Japanese language and this was a festival of food.  This was such a different take from the usual spices and masalas that go into the regular food. The simplicity and the skillful use of individual flavors to create an unbelievable harmony of taste.  I am glad of all the Eric Van Lustbader books like The Ninja, The Kaisho, White Ninja I read on the Japanese culture and also the book and movie Memoirs of a Geisha which helped me relate to this experience.  After this I can almost say I found Getsumei No Michi or the Moonlit Path 🙂
Well all this japanese food has inspired me to compose a haiku for Okano san
the taste of simplicity
is but the skill
of the chef
Leaving you with a selfie with the expert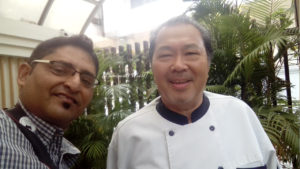 My Rating
Food 5/5
Ambience 5/5
Service – 5/5  this is from observing the other tables as I was invited and treated like royalty 🙂
Linked to ABC Wednesday(E) with Enamoured