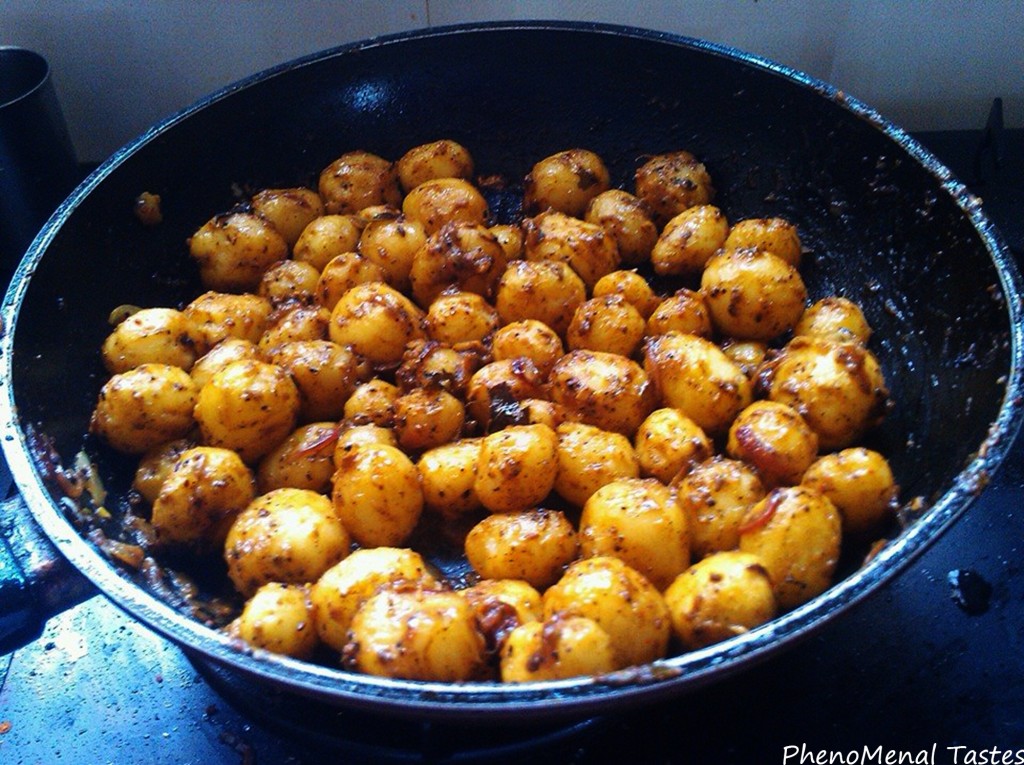 A very easy recipe that doesn't take much time at all.  I don't really use measurement so I leave it to your choice 🙂
Ingredients
baby potatoes, onions, ginger, garlic, green chillies, red chillies, tamarind pulp. khus khus, fenugreek, caraway seeds, coriander power, cumin powder, aamchur, chat masala, mustard oil
Lets get crackin shall we?
What I did was half boil the potatoes in salt water so they are not all squishy squashy (abt 3-4 whistles in a small cooker). Keep that aside…
Make a paste of onion, garlic, ginger, green chillies, red chillies, tamarind pulp, salt, khus khus (poppy seeds), fenugreek, caraway seeds (ajwain), coriander powder, cumin powder.  The consistency can be a little lighter than cake batter.
Take a pan and pour a little oil ( Your choice of oil. I use mustard oil for that pungent smell and flavor) and start frying the paste till the raw smell of the ingredients are gone and it starts browning.
Throw in the potato and toss them about till they are evenly coated and leave them covered for 10 mins in minimum. Make sure u keep an eye on them occasionally during this 10 mins so we don't get charcoal. That's not exactly nice to taste is it now? (no I haven't tasted them either).  
When serving squeeze some lime and top with fresh coriander leaves.  
Simple no?
Linked to ABC Wednesday(R) with Real quick Recipes…