As many people say from the heart, Briyani is not food, it's an emotion.  I have seen biryani war reach its peak with different biryanis having their own followers from Awadhi, Hyderabadi, Malabari to the Uru's own donne and military biryani.  While I do not fully trip on what kind of biryani it is, I do enjoy and well made one from time to time.  What better way to have a biyani than having an expert come over to your house and cook it for you? We had an expert come home and prepare mutton biryani for us. Believe it or not, the chef was in between jobs, about to move in to a new restaurant. All the more unbelievable, he was from Meghna Biryani !! Known for some really good Biryani in Bangalore, Meghna is among the top biryani choices.  If you think the quality of the biryani and food in Meghna has come down, now you know why!!! .. 😀
He was very specific about the ingreditents that went in and insisted we get everything he said he would need, no questions asked. I make a pretty decent biryani myself (the post is in dum. Will be prepared soon) and  was very surprised with some of the ingredients such aschanna masala, kasuri methi chat masala etc. So off we went with a shopping list all puzzled. So lets begin the biryani class shall we? This was made for around 6 – 8 persons.
Ingredients
Basmati rice – 2 kg – Used India Gate
Mutton – 2.5 kg
Different Masalas – Channa Masala, Meat Masala, Chat Masala, Kasuri Methi – He was very specific to get masalas from a good company and seemed happy with Everest (this is not an Everest promotion !!)
Chilli powder
Cardamom pods
Tomato Kethup
Curd
Mint Leaves
Ginger Garlic paste
Saffron (good to have but not mandatory)
Fried and caramalized crispy onions
Drinks for inspiration
Lets get started
Take a sip of the drink to begin with and get into the right frame of mind
Mix all of the masalas to form a fine powder mix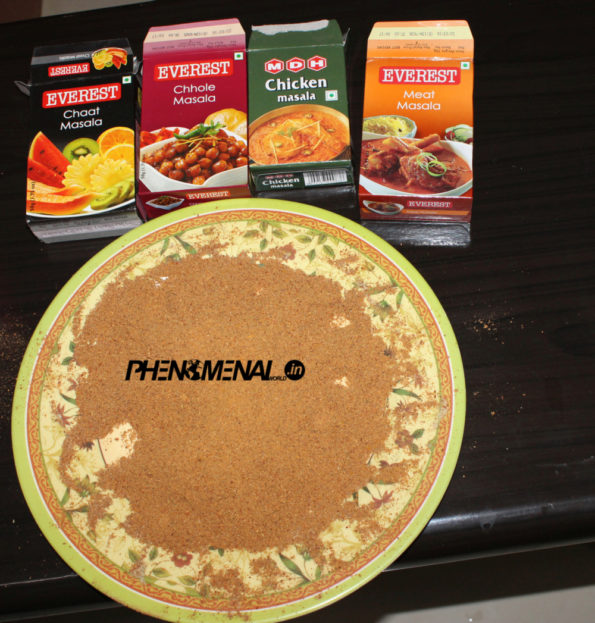 2. Add rest of the ingredients except mutton, salt (adjust as chat masala has salt as well), chilli powder and the mixed masala to form a bright reddish orangy paste. Keep it aside and don't keep licking it, the biryani needs that more than you.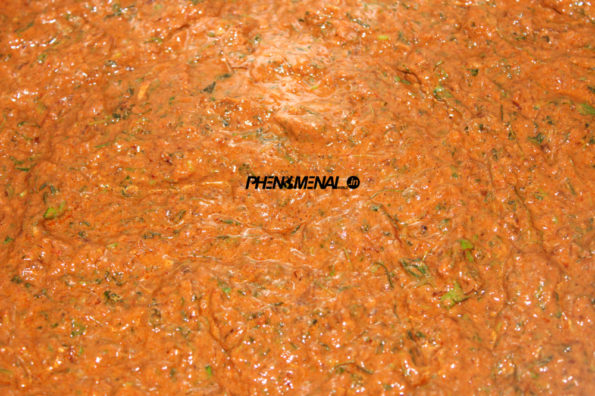 3. Grab the drink and take a deep gulp.
4. Now boil the mutton till it is 75% cooked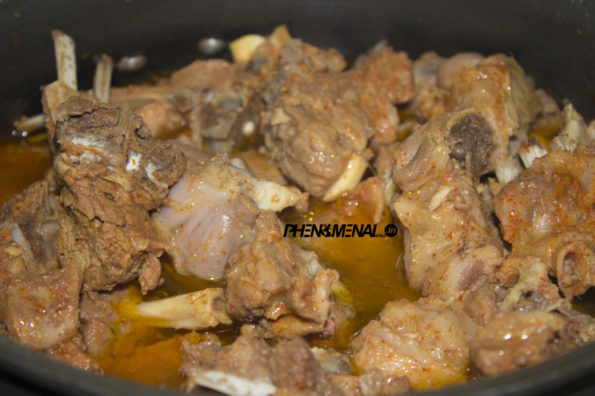 5. Once it cools down a bit add the mutton to the paste and mix well with the friend onions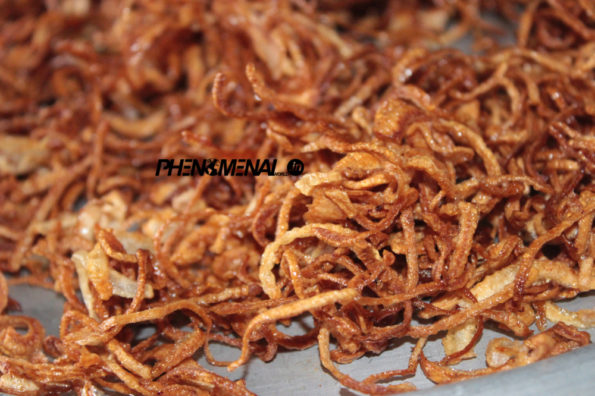 6. After that hard work, you deserve a drink now
7. Now chop some more mint and take some cardamom pods.  Keep it aside.. If you are beginning to wonder why the hell did you keep it there, slow down with the drink
8. Fill water in the designated pot for rice and add the chopped mint leaves and cardamom pods. You can also add some ghee for flavor and put in the washed and drained basmati rice. Keep checking it till its about 60% done and starts to bloom. If it's overdone  say bye bye to the fine grained biryani.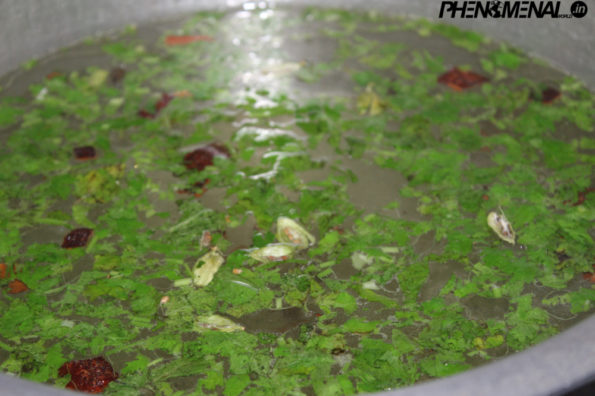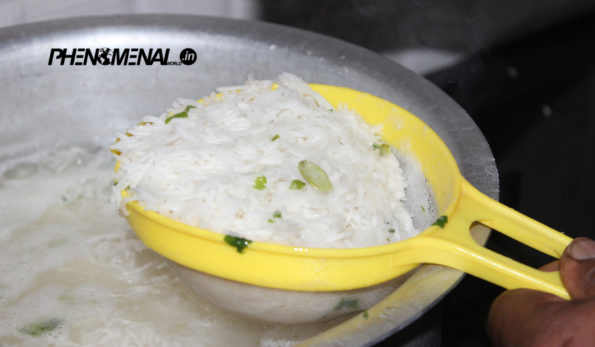 9. Move the mutton to the biryani vessel with a thin layer of onions or rice as a base so the mutton burning can be avoided. Add the rice to the mutton mix as another layer, pour a generous dollop of ghee, saffron added in milk for the color (not manadatory) and tightly cover the lid of the biryani vessel with an alumimium foil. Ensure no steam escapes. You can also wrap a cloth around the lid and put a heavy weight on top to keep the lid pressed. An ideal condition will have charcoal burning on top of the lid as well as bottom but this is home so this arrangement will have to do. Using induction may lead to confusion in the time and burning so I prefer to do it on gas.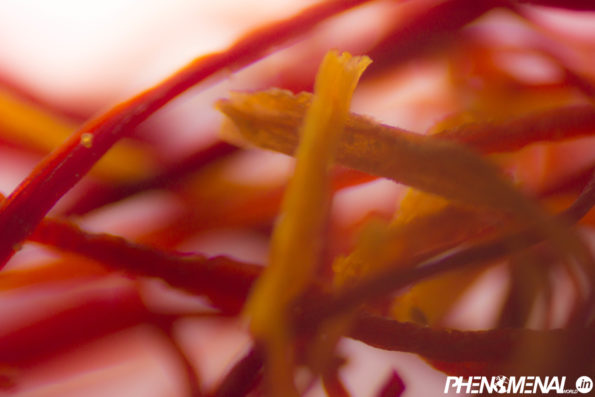 10. Cook it for about 15-20 minutes in high heat and your biryani is done. Keep your sense of smell sharp and switch off if you find any slight burning. The 15-20 mins period is extemely dicey. Utilize the 15 minutes by having a go at your drink and refill the glass maybe? I find my sense of smell gets better 😀
11. While serving, mix biryani well by bringing the bottom part to the top. The bottom part has the masala and the mutton. Voila.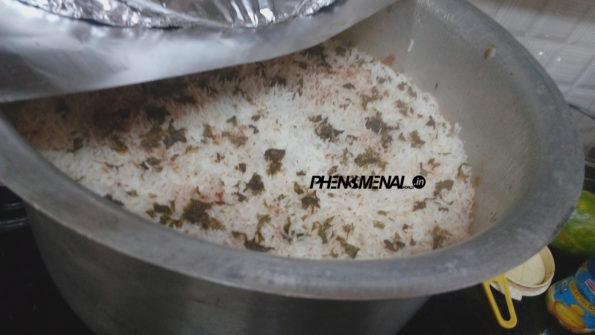 The chef did not have any set measurements. It was all by practice. His family has been making biryani for over 50 years.  Although it is not an authentic style of cooking biryani that I have seen, the taste was exquisite with tender morsels of mutton with beatifully spiced rice that packed in  enough heat to make you sweat. That's us with the expert Chef Anand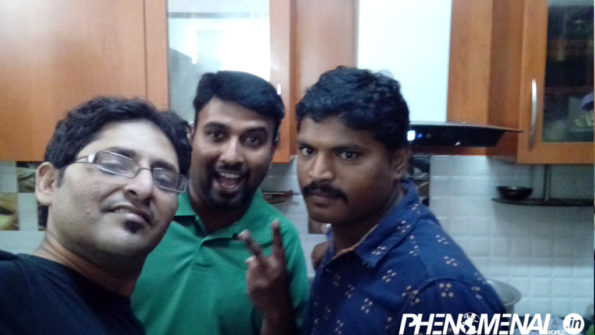 This was the usual way… Wanna know how to make a chicken biryani in 6 minutes? Stay tuned 🙂
For more biryani posts click here