Do you love crabs? I do. Too much !! I love beer too (crafted mostly but anything will do) and what happens when you combine both? You get what I call the manna from heaven.Garlic butter fried crab in beer sauce….
We need
Beer 2 bottles – One and a half for me and half for the crab 😉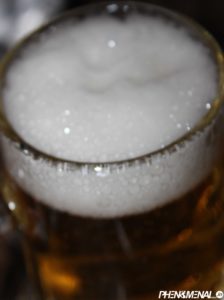 Crab – I had about three of them
Crushed and finely cut garlic – The more the merrier
Slit green chili (optional)
Organo
Dried basil leaves
Terragon
Pepper – Coarsely ground for the texture…..
Onion paste – Nothing much roughly cut onions and run it in the blender..Add a little rose water for an interesting flavor
Butter – I used homemade bu unsalted butter is fine
Lets get to it shall we?
Open the beer bottle….Take a heavy base vessel and add a little oil (I used 2 tsp of canola oil) and then add chunks of butter with a heavy hand.. The oil is so that the butter does not burn… Chug your beer 🙂
Let it sit for a min in minimum and then add in the garlic and slit green chili
Once the garlic changes color slightly add in the onion paste and put in the crushed pepper.. Stir till onion paste changes color and becomes dark and then add the crabs and toss it so it is coated evenly.
Take a gulp of beer again and pour in the half that was reserved for the crab… It should partially cover the crab….Put it in sim and go back to your beer and nuts
After about 2-3 mins add sea salt (did you know adding salt to bitter things makes it sweet?) and add some water (optional) or more beer. Don't forget to chug your beer
Let it sit for another 10 mins in medium with the lid on
Add in the basil leaves and stir on high till the gravy thickens and becomes a sauce consistency..By this time the crab is well cooked. Turn off the stove, cover with lid and let it cook for another 2 mins in its own heat… Oh did I forget oregano? (blame it on the beer)… You got to put the oregano with the basil as well !
Serve Hot. Bon Apetit….Have it with more beer !!
Can be had with garlic bread, rice and roti but mostly had all by itself and yourself !!
Linked to ABC Wednesday (N) with Nom Nom Nom