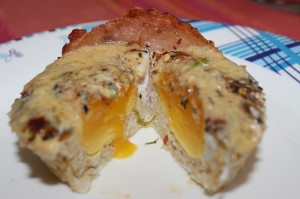 I think Hollandaise sauce is one of the best French inventions and is an absolutely fantastic way to start off a breakfast with eggs
Take a skillet, fry the bacon until both of you go crazy and the bacon gets crisp. Cut some circular pieces of bread and put that as the first base in a silicon cupcake mould, add the bacon vertically to the side and then break an egg  carefully into this so it neither makes a mess nor breaks down.  Add the seasonings of ur choice. I used cayenne pepper, oregano, sea salt and  powder of nutmeg, cinnamon and cardamom.  Preheat oven at 200 C and put it in for 15-mins (20 if u want it well done)
My own version of hollandaise…….Take another vessel and whisk eggs, lemon juice,  very less sea salt (since the butter will have salt) and dill leaves till its volume almost doubles.  Put this over a pan filled with water  which is simmering away. Keep adding melted butter  and stirring slowly till it becomes smooth.  Make sure the water is not very hot or it will cook the eggs.  Adjust the acidity by  adding more lemon juice if u want it slightly more acidic. Keep it warm and pour over the muffins u just made. Bon apetit !!