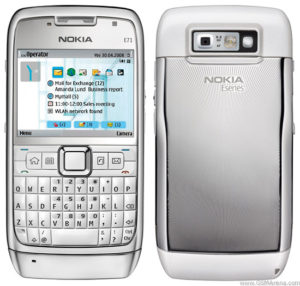 I was pretty comfortable with my Sony Ericsson K 550  and extremely happy with the features.Then came the E-71 and changed everything.The phones I had(all Sony Ericsson) were snappy, loud and fun. The E-71 is exactly the opposite. Sober, official and completely business oriented. Let's evaluate the features shall we?
Keypad – Something that could take getting used to. The keys are tiny and it's very easy to get the wrong key when you are typing in a hurry. But it becomes easy with use and with the QWERTY keypad, typing becomes a breeze. Complete with cntrl and shift functions and even a cntrl C and Cntrl V for copying and pasting!
Wifi – It's now a very common feature now but then it was a wow factor. All you need is a wireless connection and u r connected. Now how cool is that. It's extremely useful for connecting to your official emails.
Connectivity: Bluetooth, Infrared –  Bluetooth is extremely fast when trying to transfer large files from one phone to E71 or from a PC. Infrared is satisfactory. Don't use it much. Nokia PC Suite is also a big help with data transfer.
Wallpaper – Well as I mentioned before, it's not a funky kind of phone but more for corporate use. The wall papers do not have the option of using gif images. So even if u do, the images are static. It has some good themes though. All sober.
External Emails – Getting connected to emails such as hotmail, gmail, yahoo and many many more… is a piece of cake.  You will need a good GPRS provider for accessing them though in case the Wifi is not available. I just cant wait to try the 3G once my service provider starts.
Memory – Upgradable to 8 GB it comes with a standard 2 GB mini SD card
Applications – Comes with a visiting card, bar-code scanner. Apart from that the works with the MS office suite and PDF reader and a compressor for zipping large files. Comes with a notes which is useful for a To-Do list or just
Media – The camera is a 3.0 MP camera which is ok. Not groovy. The external speaker is also not loud when playing music and it is much clearer when using headphones.
GPS – This again was something new when I got the phone and I had some good fun using it. Incidentally when u buy any phone with GPS you get a 3 months subscription free. After that you have to pay. But good news again, Google maps is available and installable in the phone
Telephone Book – This is neat. You don't have to keep going into contacts for finding a name. Just type in the words on the screen and you get a choice of names!
Weight and size – Boy is it slim!  Look at the photograph. Do I have to say more?
Battery Backup – Impressive. Will come for 3 days easily with moderate use. If you are among the ones who have the phone stuck permanently to the ears, well get it unstuck and charge more! Talktime of 4.5 hrs. Now isn't that ENOUGH?
On the other hand the phone tends to get stuck sometimes when making calls. This is especially when u r trying to pick a name to call and when someone is calling you. It's like an advance warning system. The phone is a fingerprint magnet as well and occasional wiping is required.
Anyways, I have been using this without any major complaints(coming from me who is crazy about gadgets, thts  a big+).  It was around 20K when I asked around(yes I did look the gift horse in the mouth) but now with new versions and better gadgets in the market and one and a half years down the line, it costs around 13K.