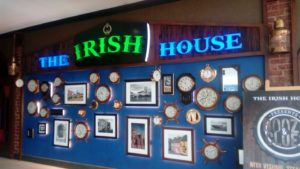 I was invited by The Irish House to try out the week day lunch deal at the Irish House. It was a special day as I met my better half exactly 10 years back for the first time and now we are three !! So off we went. It definitely has an Irish feel to it that tempts you to go completely Irish and crazy 😀 Bright and shiny interiors with a sit out for those who want the breeze and also to light up their sticks
The lunch deal is a good word as it sure is a deal for the price. You get an appetizer main course and side
that caters to both Veg (Rs 275) and non veg (Rs. 375).  It works well for a quick corporate lunch for the companies in Whitefield. You can also pair this with a mug of beer (Rs. 95) or Sangria (Rs. 145) !!
We ordered both the veg and the non veg to try out the experience. Heres my take
Non Veg First !!
Appetizer ordered – Herb crusted fish nuggets – A parallel take on fish fingers.  It will be good if a dip is provided with this going forward
Main Course – Grilled harissa fish steak with mashed potato and burnt garlic sauce – Flavors absolutely spot on,  exquisitely prepared. I relished it all the way to the end  (my better half reached the end before I did though)
Sides – Though it came with mashed potato, one can never have enough of it
Veg Course
Appetizer – Jalapeno Popcorn – Average but it could be taken to another level with a good dip to cut through the sourness of the Jalapeno. If you are not big on sour or tangy avoid it
Main Course – Eggplant Parmigiana with sauteen veggies and and paprika sauce – A lovely flavorful dish with the correct thickness of the eggplant.  Beautifully prepared.
Sides – Cheese Garlic Bread – Average
I paid extra for the Hoegaarden which costs Rs. 675 a pint. It cost 300+ in retail but u do need to feel Irish right? Also went in for the Sangria for Rs. 145
Overall an deal for the stomach and soul… Enjoy the rest of the visuals.
Thats us, one happy family with thirst and hunger taken care of
 Rating
Food 4/5
Ambience 4/5
Service N/A (by invite)