#invite # #phenomenalworld #phenomenaltastes
**VIEW  Images in Full Resolution**
Was invited by Chef Tanvi to savor the delicacies in the Broadway – The Gourmet Theatre and how could I refuse? The place is spacious and airy with a sit-out as well as a roof top arrangement.   You will probably miss the teppanyaki fun if you go to the roof top but more on that below
I had met the Tepanyaki expert chef Shiva a long time back in Teppan (read my reviews by clicking on the name) and he had kept us enthralled with his tricks using the spatula and the cutlery and eggs. It was good to meet him again.  He had some new tricks up his sleeve and especially the heart drawn with an egg.   The entire staff  seemed very warm and this venture by the chefs seems to be a hit.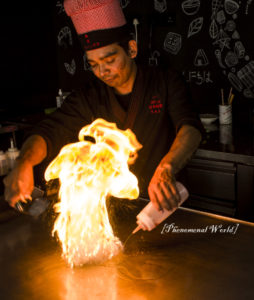 Meanwhile the specialties started coming in… First was a smoky magic mushroom soup (nope not the shrooms !!) made with porcini, button mushroom and truffle which was exquisite. It was beautifully balanced and one of the best soup I have had. I would go there all over again for this alone but,  the delicacy does not end here.   I liked the presentation which was in a closed glass bowl to hold the smoke in and let your nose savor the scent once it was opened in front.
Gochujang Cottage Cheese Floss with mango and basil seed dip was crunchy and nice though I am not a huge fan of cottage cheese. The crispy noodles was very nice and kind of provided the inspiration for me to eat the cottage cheese within.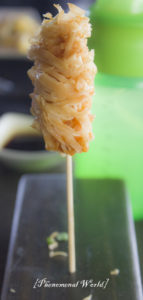 Apart from this I went in for a smoked whiskey sour which had hints of ginger. Very fresh and very refreshing, It was a good take on the classic. The lemongrass vodka martini which my better half took had a lovely flavor of lemongrass and curry leaves. Easily one of the best cocktails I have had.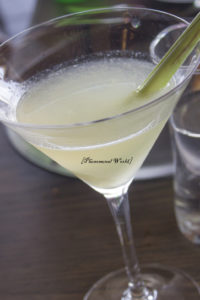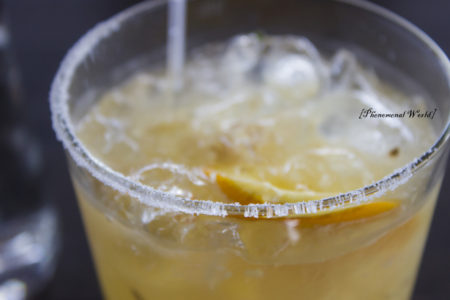 The Balsamic Pork Belly was lovely with a good balance of sweet and sour. A very flavorful dish indeed and spot on for those who love pork
Meanwhile Chef Shiva made us a delicate salmon sashimi. Absolutely brilliant and my wife who can survive entirely on seafood went into thralls of ecstasy.  Dipped in a combination of soy sauce and wasabi providing the salt to the delicateness of the fish along with pink ginger. This was beyond the realms of good taste and has to be experienced rather than described in words.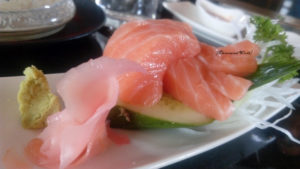 We also went in for Gomoku Chahan which is a prawns, egg, chicken and pork fried rice (call it animal planet fried rice) I loved the spice profile of this one. It had the right right spice without being too dominant.
The Asparagus risotto with fish, squid, prawns and scallops was again a beautifully prepared dish. This is a seafood lovers dream in a dish and a must try in this restaurant.
The Bamboo mutton biryani was balanced well with the bamboo providing an interesting serving experience.  The mutton was well cooked which for me is critical in enjoying any mutton dish.
For dessert we ordered Tab Tim Krob which is water chestnuts in coconut milk along with seasonal fruits. I loved it for its subtlety using the natural sweetness of the fruits. I had a similar one in Tim Tai as well which was equally brilliant.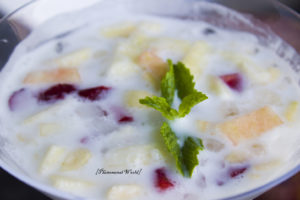 The Guava Chilly in black salt sorbet is a lovely concept and reminds you of eating guavas with salt and chilli powder mixture albeit in a much more fancier way. You can see my kid enjoying it as well
The chocolate globe (did not try as we were too stuffed) is a dramatic dessert where hot chocolate is poured on the dome till it melts and reveals the goodies within….
I plan to go back for the Hathoda chicken which is again one of their signature dishes where the chicken is covered in charcoal and you are given a hammer to break it open to eat that grilled chicken.
All in all a place I would recommend to anyone both veg and non veg
Rating
Food 4.5/5
Ambience 4.5/5
Service 4.5/5 (though I was invited I saw good service being provided to other tables)
Value for monay 4.5/5 (the rates on the menu seemed a deal for the quality and taste
Call them on 098458 56677 for reservations
Leaving you with haaappy smiles and remember its our way or the broad way !!