#phenomenalworld #plattershare #BellyNirvana #f2f #farm2familiez
I was sent samples of Farm to Familiez (F2F) batter varieties as part of the Plattershare #bellynirvana. Usually all this batter is made at home as we don't trust the ones that is available outside and also consists of very less rice and more of grains and millets.  Here is the list.
Adai
Multigrain
Multi-Millet
Regular
Uddina Vada
Appam

I really liked the quality of these batter and if ever we feel lazy in making our own batter this will be our primary choice. Very fresh taste
From this I used the Adai and the Regular dosa/idli batter to create my own versions. I find the regular way of eating very boring and so does my kid.
This will involve very less cooking and more of craziness
Masala Adai Tostados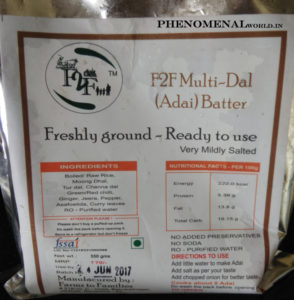 Tostado is one word which means nothing to be but is being used quite commonly in hotels to give a unique name to ordinary things.  So lets create this shall we?
I used the OPOS way of making the potato masala.  Here is link to another of my  mutton recipe involving OPOS.  To subscribe to the channel run by Mr. Ramakrishnan click here
Potato Masala
In 2 lts pressure cooker add 3 tbsps water to prevent burning and 1 tbsp oil
1 large potato chopped into pieces. I used baby potatoes as the first layer
2 or more green chillies (I used 5 😉  as I like it very spicy),
1 finger of ginger chopped finely,
1 sprig of curry leaves.
1/2 teaspoon Turmeric powder (  I like that yellow color) and salt as per taste
DO NOT MIX
Cook it for 4 mins or 2 whistles whichever is earlier.  Release pressure immediately and mix
If you want to eat it with adai as a side masala you can add a little warm water or whey. I like it thick to keep in the adai
For Chutney
A simple no nonsense chutney with red chillies (put in water for atleast half hour), onions, garlic, ginger, fenugreek and sea salt. Add a little oil while grinding for emulsifying it.  Coconut oil for best results in terms of flavor. I also added some kachi puli (a kind of cocum tamarind usually available in Coorg). I put exactly 1/4 teaspoon. Any more and it will kill the other ingredients and render it inedible
Now that, that part is done let's get to making the adai which is the simplest part
Making the tostada
Open packet and add a little water (just follow the instructions on the package). Now the secret of getting golden brown dosa or adai is the dosa griddle should be hot but not very. If u see it smoking splash some water. If you pour the batter cold then you don't get the color. Also if you use the thick adai batter it will not spread evenly or start tearing apart on the tava when you try to spread too thin. I like mine thin and crispy.  So for tostadas take very little and make small circles instead of the usual big one.  Cover with a glass top so u dont have to turn it over.  After 2-3 mins, spread the chutney in the center and put the filling on it. I used an ice-cream scoop to give perfect sized and shaped potato filling on the adai.  Cover it for another 2-3 mins and you get some crispy tostados. Top it up with homemade butter and we have a winner!!
Since its mildly salted adjust your salt accordingly
Here is another version with plain onions topping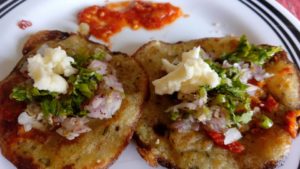 2. Dozza
This is Dosa educated in Italy !!
Tomato Sauce
2-3 ripe tomatos
garlic 2-3 pods
ginger 1 finger length
3-4 red chilly
Salt as per taste
3 tsp extra virgin for emulsification
a stick of cumin
sugar 2 tsp
cheese slices
Grind the ingredients and fry it in a pan till the rawness goes off. Since this will be put on a dosa and not in a oven, the rawness of the tomato will be there
Spread the dosa batter, after 2-3 ins spread the tomato sauce on it. We wait 2-3 mins so it becomes a little firm to support the sauce, add the cheese slices  and cover it with a glass cover to see whats going on and so it does not burn. Wait till the cheese melts. Cut and eat !!You can also add chicken, bacon to keep it interesting.
3. Egg Dosa Roll using Millet Batter
This is my take on the famous kolkata roll but on a dosa. It works well here but works the best with wheat dosa
Beat 1-2 eggs (your choice) and add whatever you want in it. In my ravenous days I add bits of crispy bacon, cilantro leaves, garlic, ginger  or I avoid the bacon but retain the rest of them. Beat well and keep it aside
Finely chop onions and green chillies, bacon (optional), cornflakes or nachos
Spread the batter evenly on the griddle. Make sure its not too big. When the dosa is a little cooked and firm pour the eggs over it so it covers the dosa evenly. Cover and wait till the eggs are cooked one side and flip it over till it's done.  Once the dosa is removed from the griddle put in the chopped items with a squeeze of lemon and mustard sauce, roll and eat !! Millet-e hain cheeze yahan
4. Crazy Shapes
Take a sauce bottle and start piping the dosa to the riddle in whatever shapes the kid wants. Here's my trial with the multigrain dosa.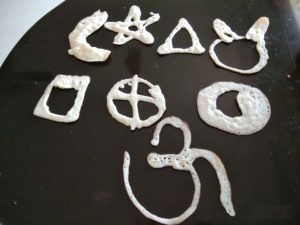 5. Podi Dosa Upma using Multi-Grain batter
So with the 5 package which was multigrain I made a upma podi dosa (like pesarettu of course)…
Did you know left over upma can make an amazing filling in a dosa?  What I did was chopped up some raw onions, green chillies and lime juice with a little sea salt (since upma already has salt) and mixed it with the upma. Once the spread dosa  gets cooked a little spread the upma mysore masale style meaning all over the dosa and liberally sprinkle the chutney podi over it. Voila you have another interesting creation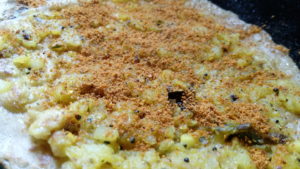 I hope you liked the 4 versions of the humble dosa.