#Indiblogger #BergerXP #JaldiKaro #FasterCleanerBetter
I was part of the Indiblogger event sponsored by Berger. It was a brilliant meetup and informational in a different kind of way. The reason why this get together interested me is that I was looking at painting by house again. I also have textured walls in my living room and master bedroom.  I used Asian Paints and I have absolutely no complain with it so far. The textured walls still look as new and bright as the day it was painted 7.5 years back. However that nagging thought that wants to redo the house again keeps spreading its tentacles across the mind and then I am in two thoughts.  On top of that is the bother associated with getting the house painted again. A new house is a different matter and a fully occupied and furnished house is a nightmare to paint again especially if you have a toddler.
I went with the same thought that I was to be fed the same promotional spiel and cliches of any paint company about the quality of their paint blah blah… I was wrong…    The premise of the event started off in a different direction.
What equipment have you seen with a team who comes to paint your house again? Rollers, paint buckets, and other local thingamjiggies?  What else happens, you have this dust that permeates everything even if its covered and the smell of it driving you crazy.  You tolerate this in the hope that it gets over fast and you don't have to worry about it for another decade or more.  Imagine all of the convenience of a easy painting experience without the dust and mayhem that is usually associated with painting? Yep that got me interested too.
Berger paints is the second top company in India with a huge network of contract painters and have an unbelievable coverage across the country.
Still reading?  Good lets start with how the events unfolded.
We started with a photo session in the area specially created. After successfully completing my plastic grins and selfies I scooted away as far as possible.
After a quick lunch, we started off the session with a funny activity to bring us out of the afternoon stupor. Call it tai chi or a funny chee.   Then there was the usual 30 seconds of fame where random bloggers based on their tweet handles were picked for introductions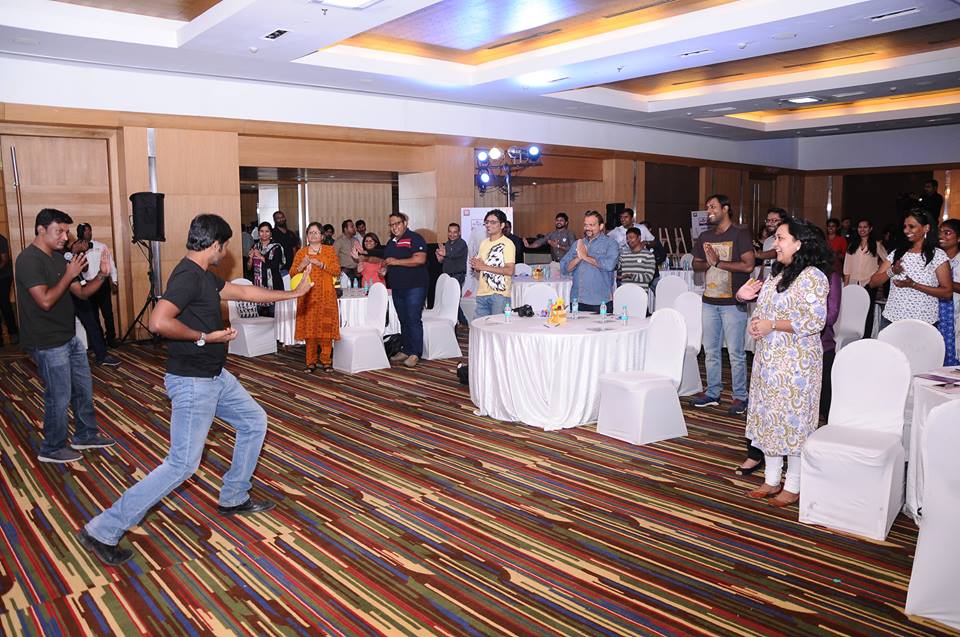 Then there was the joy of bursting others balloons tied to their leg. Since I am having a knee injury, I let my balloon be burst without any reluctance or effort.   It was fun watching the others trying it though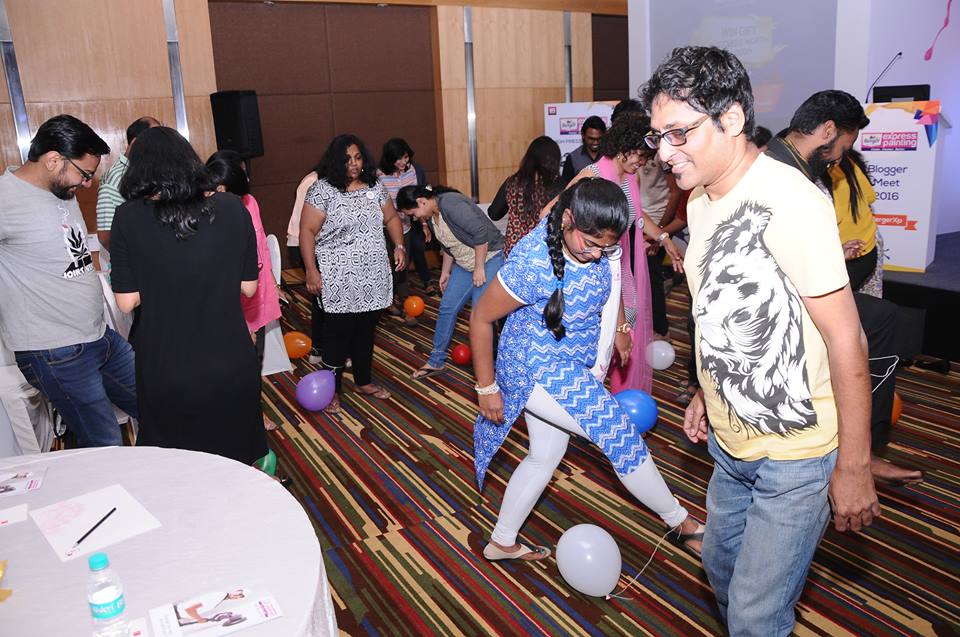 Now we reach the prime(r) part and where I stopped before.
Berger Paints are now providing the best of equipments in enhancing the experience of getting your house painted without the fuss and muss. With their vacuum sanding machines that sucks the dust from sanding into bags, putty mixers, futuristic paint sprays and water jets and a trained team to handle all of this. Now imagine all of this at no additional cost other than what you pay for the painting! Deal right?
Some relevant questions were also answered by Chandranath Banerjee, Service Head, Express Painting about previous textured walls getting repainted. This was one question I also had since I have two textured falls which I mentioned before.  Well, textured wall designs aren't unique and one can get similar designs from all companies. Should you get  a patchwork done? Absolutely not. Even though the paint looks new after all those years, there is some sort of color fading happening and if new paint is introduced in other places, you will end up with two colors even if its the same color or paint. With a tag line of Faster, Cleaner, Better, they seem to be doing justice to it based on testimonies
After this informative session, we checked out the equipments displayed which included Sanding Machine, Multipurpose Mixer, Airless paint sprayer etc
We had some fun activities again after that.To experience the sanding that the painters go through and the unbelievable mess that happens during sanding, we were split into teams and given a section with an abrasive top. Our mission? To smoothen it out  with sandpaper.  The first time we managed to even remove the putty (we weren't given the right instructions). Our second effort was ticked of as a job well done by the company reps who were part of the event. We completed that in 2 mins 13 seconds !  I managed to make my brown shoe white in the process as well. That's us scrubbing away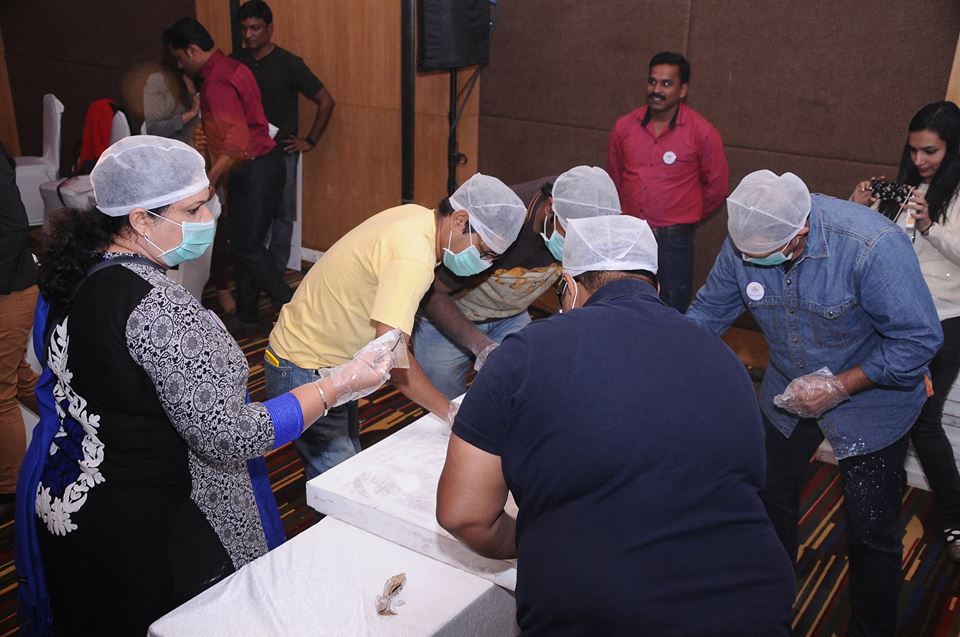 That's me Painter Daku (dacoit)
The second activity was using the Berger paints on canvas. First the primer was diluted with water adjusted for canvas. Then the main paint was added to this to get the required color. There were a variety of topics from socially relevant illiteracy, black money, to colors of India and Namma Ooru.  Our team named as Painted Dakus chose to show the diminish
ing green cover of Bangalore getting crushed by the sheer number of buildings as well as the controversial Steel Flyover. There were some splendid work done by the other teams but…. Our team got the first prize based on the result of both activity !! How cool is that??
The event ended with the mannequin challenge, a groupie and distribution of T-Shirts and goodie bags.  It was a fine event and brilliant meeting old blogger friends and making new ones. I have always loved Indiblogger meets as it opens opportunities for lovely, lively and informative interaction and experience.
So if you are indeed planning to get your house painted SMS XP to 56767 and Berger Paints will contact you.
Linked to ABC Wednesday(W) with Whale of a time