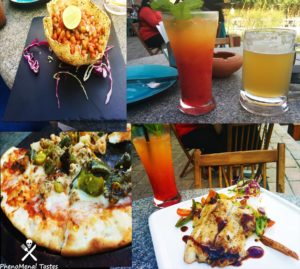 Ok lets start with some happy news. We are expecting our first this feb. My better fhalf was cooped up in bed for the better half of the year on Dr's advice. So when the ban on roaming was removed the first thing she wanted was to eat out (even gourmet food can get boring when eaten at home 😉  ). I had heard about this new place called Big Brewsky (pronounced Brew Sky) on Sarjapur road which had their own brewery and craft beer and thought why not eat the cake and have a stab at the bakery too
The place itself is deceptively big with a koi pond with fishes giving it a great ambience. There are small benches for sitting around this as well. This is usually the most sought after tables. There are a few structures with two storeys as well. Like I said, from outside the place looks small.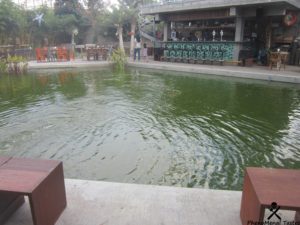 We had gone in the afternoon to avoid the irksome prebooking and waiting.  Following the tradition we started off with drinks of course. I went in for their IPA (Indian Pale Ale) which had this dreamy fruity flavor that was well received by my palate and my parched throat.
My better half stuck to fruit punch and ordered something called a strawberry sunset which was surprisingly good.  The peanut masala we ordered came in this bowl made of roasted papad which I thought was clever.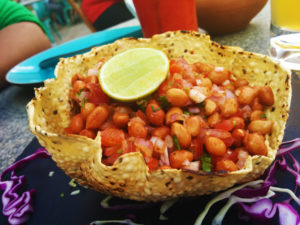 Coming to the food since we are not very heavy eaters we went in for a Fish Teriyaki.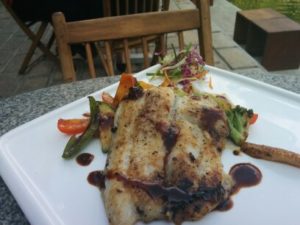 The flavors were well balanced with just the right amount of seasoning and the fish cooked  right to perfection.  Our main course was a wood fired pizza (that's right cringe away !! )  with chicken and lamb mince along with jalapenos and olives.   I thought it was just about ok and nothing to look forward to on my next trip.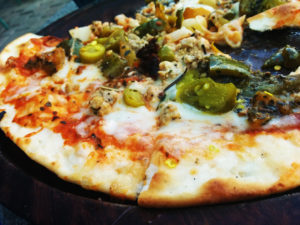 My suggestion..avoid all things pizzas here.  The total bill came to about Rs 1500 for the two of us with two pints of beer, the mocktail and the food.
If you are one of those who like eating out or ordering out very often and are always looking for some good deals to save some pretty penny, then, tada !! (drum roll) we have the Foodpanda coupons. If you are looking for more let know. I am usually  adept at getting the maximum pleasure with the minimum investment