#HOConZCafe #phenomenalworld #houseofcards #indiblogger #review
This blog was selected by IndiBlogger for a review of the House of Cards Season 5 so here is a review of the first episode
***Minor spoilers ahead for episode 1. Read at your discretion***
Frank Underwood is coming to India with the television premiere of House Of Cards Season 5 on Saturday, 3rd June, 5 PM onwards, only on Zee Café!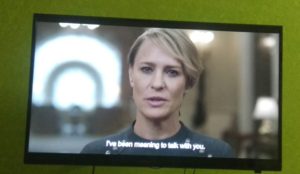 One of the best series on Political intrigue and cut-throat competition, the new season 5 of House of Cards brings in a fresh dose of terror warnings and all the mileage terror can bring. Yes terror is a business by itself and the rage against terror is another business completely. It's  not very different in any other nation and all leaders utilize every trick in the book for justifying their existence and value add. As the President and First Lady, Frank and Claire Underwood stoke  and foment terror for their political games the episode covers various feelings it can generate from  sympathy to hatred for the parent of the terrorist.
The beginning of the episode is interesting enough with a message by Claire. The President's declaration of terror in the congressional session was very compelling and a stroke of genius in my opinion for a divided house and to take away the issue of an impending investigation.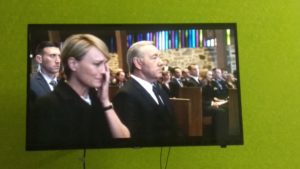 The family who has been a victim of the attack seem to condemn the President for using them as his pawns in the political game
It's an interesting thought really. Are parents completely responsible for their child growing up to be a terrorist? Should they have monitored closely the whereabouts of the child or looked for signs? What are these signs? Should they be held culpable for their child's actions?
We seem to be digressing though.
There are some instances of Donald Trump's controversial proposals for sealing off the US borders against immigrants. Let's hope Trump does not take notes from this series.
I especially loved the Richard Burton song Spacey sings "I wonder what the king is doing tonight"  and the ending statement, "You have nothing to be afraid of".   Will this fuelling the rage against terror work?  Watch the series !!
Now put the starting and ending statements together and it forms an interesting sentence…
I have been meaning to tell you something,  you have nothing to be afraid of 🙂 !
Kevin Spacey is a brilliant actor and has some lovely hits up his sleeve with two Oscar awards for Usual Suspects  in 1996 and American Beauty  in 2000 and a Golden Globe and a handful of nominations.  Robin Wright who plays Claire Underwood got the Golden Globe for Best Actresses in a television series in 2014 for HOC. This is going to be a ride !!
If you haven't watched HOC yet I suggest you do.