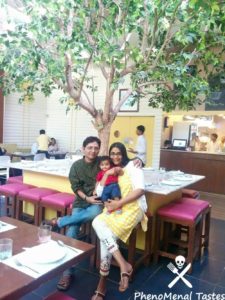 Right then!! This is our visit to this deli called Tim Tai in Koramanagala, B'lore to celebrate our 8th wedding anniversary. We had heard some good things about this place and was looking for n excuse to try this place. We walked in directly without any booking (around 14:30 and the last order is at 15:00) and got a table anyways since it wasn't very crowded (a kid alays helps of course 😉 )
The place is bright and spacious and the staff very pro-active. This time we decided to go for all of the signature dishes that is clearly identified in the menu. We started our food experience with the Tom Yum seafood soup. A Thai spicy soup that actually brings tears and also a good thing if you have a blocked nose. We like it spicy so it was off with a good start.  Look at that color and you can imagine. There was a liberal amount of shopped chillies in it too.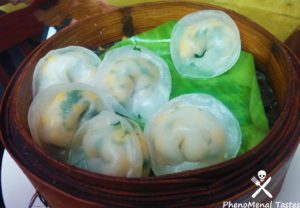 As starter we went in for their famous corn and spinach gau, which are dumplings or dimsums with corn and spinach of course. It was surprisingly delicious. We are not ones to choose veg over non veg usually but this choice was indeed the right one.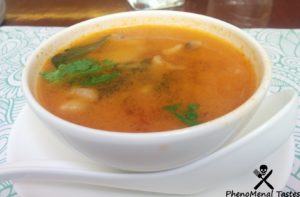 Then again ordering a veg and not a non-veg cannot happen right? We went it for their banana wrapped fish with Balinese spices. My better half is very fishy lady so there was no second thoughts about it. The fish was steamed beautifully with that perfect spice which did not spoil or destroy the taste of the fish. Look at the color on it and drool!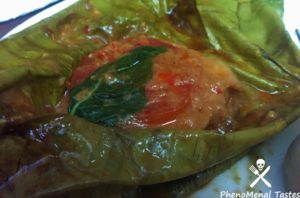 The steward was good enough to mention the portions which was quite quite generous till now and so we went in for  Thai red curry with plain steamed rice which was actually filling. I did order  glass noodle salad but sadly it had to be parceled and frankly not worth mentioning.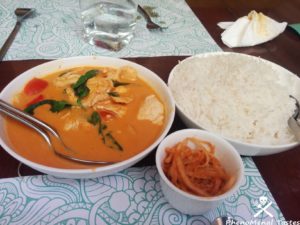 The one that took our breath away was the dessert. Water chestnut rubies in chilled coconut milk which also had chunks of lichies in it. Oh boy was an experience or what??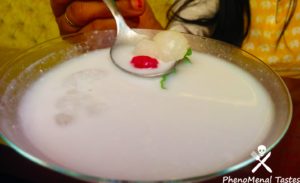 The entire cost came to around Rs. 2257 but the food part alone was only 1740 the rest being taxes !! I don't mind going back to this place again though.
By this time the kid seeing all were gorging was all cranky and hungry. The manager was so good he offered the managers room for us for feeding the kid and also waited outside so no one could barge in accidentally. Now that is indeed customer delight no?
Let me know how you like it. Bon apetit !
Linked to ABC Wednesday(I)