Phenomenal World was invited with a few other bloggers and media for the sneak peek (or eat) of the Karnataka Food Festival curated by  #ChefGaurav and #Chef Raymond.  The menu covers the best of the regions of Karnataka which includes Mysuru, Coorg, Dharwad, Davangere, Mangalore, Gulbarga, our very own V V Puram and a few others.
#Chef Gaurav has who has been born and brought up here has put together this splendid menu which covers his love for the kannadiga food.
Starting with the ambience,  it was tastefully done bordering on simplicity but that made it look sophisticated…  With a background of kannada songs, the place was all set for the welcome.
My favourite was this basket of red chillies
I was welcomed with a cool soothing cocum drink and refreshing mildly spiced buttermilk. Both had their own way of setting the expectation. This kept flowing throughout the meal.
 Starting with the street food of raw banana and chilly bajji, nippat masala and congress (peanuts) masala, it set the tone for the other goodies to come. I loved the skillfully presented nippat and congress masala. All that was required was some beer!!

Varieties of pickles – There were 6 varieties of pickles from raw mango to prawns to chutneys. The prawn pickle  was a surprise since it was made in mustard oil and I have not heard mustard oil being used in karnataka for cooking. Tasted very bengali and an odd one in the karnataka festival.  It was lovely though and no complaints
This was an extensive menu with a great variety of offerings both for vegetarians and non vegetarians. I will now list the food starting that hit all of the right spot for me
Kodava pandi (pork) curry – Needs no introduction, the pandi curry from the Coorg region is known for its exquisitely cooked pork with kachumpuli (a kind of tamarind local to the region and which can make your hair look  like you just got an electric shock), handground and  roasted spices and pepper giving it a dark look. For my recipe click here
Manglorean Prawns Curry – A finger licking curry of prawns which was my combination for everything. I gorged on this beauty
Special Mussel and Clam Fry – A thick masala of fried clams and mussels, this was a masterpiece of a dish. The flavors run riot on your palate and keeps you drooling
Akki Roti – Roti made from rice flour and added dill leaves I loved this with the dill leaves giving it a pungent zesty flavor. Akki roti is a beautiful combination with pandi curry. Mind you this also goes well with many veg curries
Jowar (great millet) Roti – A crisp crackly roti which goes well with mutton or any other spicy veg curry
Sannas – A kind of rice cake from Mangalore and very similar to idli
Chicken Ghee Roast – Typically eaten with neer dosa
Neer Dosa – A very thin version of the dosa made with rice flour. It is almost weightless and one can keep eating this and not realize the quantity
Ragi Mudde – A very traditional offering of Karnataka and eaten in many regions, this is ragi balls dunked in a gravy (either mutton for non veg or basaru, a kind of green leafy goodness gravy).  a ragi mudde is never chewed or bitten, just swallowed 🙂
Obattu – A sweet dish of rice stuffed with sweetened goodies. Usually served with lots of ghee
Look at that ghee being poured… Sigh!!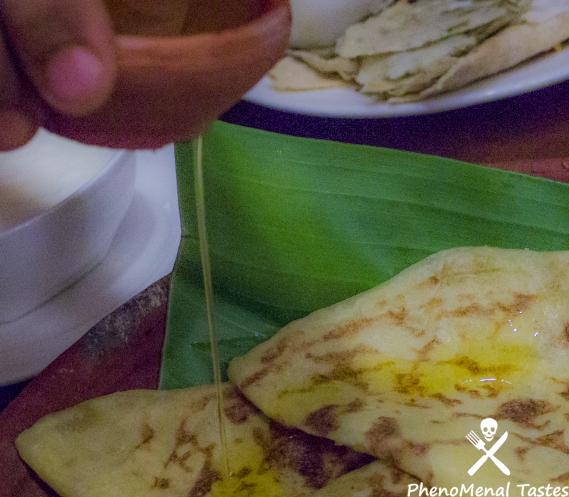 Dharwad Peda – A unique sweet from Dharwad, this has many takers and the taste can send you into a sugary swoon of happiness.
Enjoy the Slideshow
The festival is on from 29 Sep, 2016 to 13 Oct, 2016 and available for both lunch and dinner.  So what you waiting for??
Find them on Zomato