#invite #bloggerstable
Chitty Chitty Bang Bang (CCBB) is one of my favourite movies.  A fantastic story about a jalopy that floats and flies and the riders adventures in a fantastic land.  With splendid songs, the name of this gastro pup stirred up quite a few fond memories of my childhood.
Here is a fun song from the movie
https://www.youtube.com/watch?v=ZTTzcXSLjhI


Zooming to the present, the place looks inviting with a good seating and well used space.  Located on the 4th Floor terrace, the view of the city is good too.   They also had a live band playing some amazing songs from classic rock to blues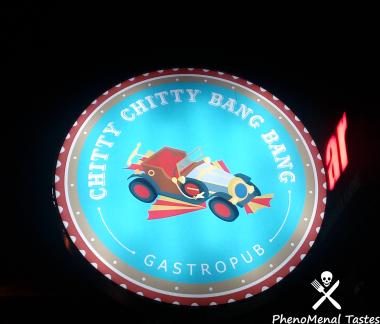 After the introductions to the management we ordered our cocktails. I went in for Hot City while the others ordered the namesake CCBB which came in a coconut shell. It was a bit too sweet for my liking but the flavor was balanced.  The hotcity had a beautiful balance of sweet and heat and left a lingering taste.  If you like spicy cocktails, this should be your choice.  There was also some others call Old Man and a weird one made with milk maid… Not my cup of tea. A sangria too was thrown into all of this
CCBB offers some excellent starters and I could find not fault with any of them.
Spinach Empanada – A lovely crispy shell with spinach inside. The dip was just right to compliment the empanada without spoiling the taste
2. Mushroom cheese balls – A lovely cheesy offering with jalapeno peppers.
3. Chicken Bang Bang – One of my favourites, it had the right spice to tingle the taste buds.
4. Bruschetta – Cannot go wrong with that one. Came with a lot of toppings like salsa, baba ganoush, feta
5. Pondy Beef- A lovely lovely offering with succulent beef steak pieces. The spice was just right and a lovely finger food with the drinks. My recommendation
6. Tempura Prawn –  Can't go wrong with that one either… A simple lovely dish with a lovely flavorful dip
7. Pizza – Both the margharita and chicken tandoori pizza had the right cheesy goodness
After a round of draught beer, for the main course we had
Beetroot risotto – A beautiful preparation in both taste and looks

2. Aglio Olio Shrimp – With a lovely balance of spice and the flavor of the shrimp coming through, this is a winner.  I did think it was a little dry but the others relished it. To each their own
3. Chicken Lasagna – A classic dish made right
By this time we were stuffed but its not over till dessert !!
Sundae Brownie – A regular brownie with chocolate presented well
2. Blueberry Cheese cake – Again a regular offering but I like blueberry  cheesecake so there
Overall a place worth checking out.
My rating
Food  – 4/5
Service – NA (it was an invite so the service was indeed impeccable
Ambience – 4/5
Find them on Zomato