Nooshe Jan in Parsi literally means may your soul be nourished and that was exactly our experience here. We had heard quite a lot about this place serving Parsi cuisine but were too lazy to drive down to Indranagar. However it was a lucky day when we had to meet someone and this also gave us a chance to go to the Red Fork…
Located in Indranagar, it's a bright lively place and sets expectations right away. They don't have a menu card but black boards with the menu written which took me back to the school days. We started off our food journey with a complementary starter which had a very interesting taste and I had a red wine with it.
As starters we ordered the Piggy pops with Huncaina Sauce (fried pig ears with crisps) which was just about fun with its crispy texture and cracking taste. The sauce was pure evil that did wonderful things to the palate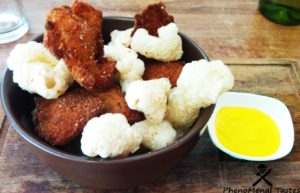 For the main course my better half went with Sali Boti which is a popular Parsi cuisine which is mutton gravy (boti) with sali (rice crisps) and roti as accompaniment. I am big on rotis but this particular one did not make me drool. The gravy was a typical fare not too spicy

I went in for Handmade tortellini with braised oxtail, panfried baby leeks and carrots which was just wow. It's not a parsi cuisine but was absolutely mind blowing. After a small bite my better half wanted to exchange her with mine. Thankfully she didn't insist too much on the exchange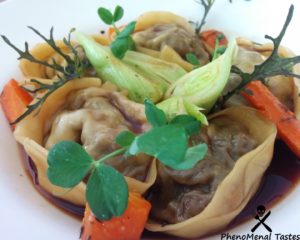 The last was the dessert which was a terrine with a walnut crumble and vanilla ice-cream. It reminded me of the Goan bibingca in taste though but the crumble was delicious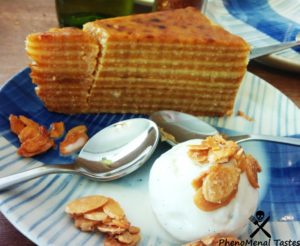 Leaving you with our family pic and satisfied grins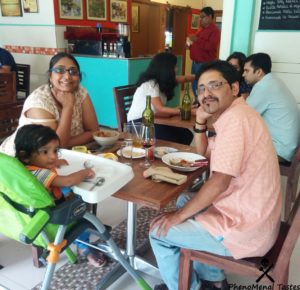 My Rating
Food 3.5/5  (for the tortellini 5/5)
Ambiance 3.5/5
Service 4/5
Nooshe Jan!!!