invitations to eat
a group to meet
life is swell
So here I am all drooling still thinking of all those delectable food that I had a chance to sample with the #FBAB (Food Bloggers Association of Bangalore group). It all started with an invite to taste the new menus that Five Star were bringing out.
About Five Star Chicken first…..
Five Star Chicken and is a successful chain in Bangalore.Founded in Thailand in 1985 it comes under the CP Foods Company. Considering the Asian origin, the lovely Asian flavours can be tasted prominently in their offering. Started in 2012,it has grown quite rapidly having more than 200 stores across south India and parts of Goa.
The reason why were called to sample (lucky us eh 🙂 ) was the fact that Five Star Chicken which was a go to place for meat lovers is now being re-branded to Five Star Cafe.  Apart from chicken, they are now open to vegetarians as well with a host of offerings which will delight vegetarians.  Oh yes the items and things used for veg is completely separated from the NV section so don't you worry. They also have surprise audits and mystery auditors in all of their franchisees
The place I went is in Indranagar after the KFC signal on the right (if coming from Koramangala). The GPS works with Five Star as well
Coming to the food, here are the ones I sampled
Thai Crispy Chicken and Masala Crunchy Chicken (no snap of crunchy as it looked the same)
This was crisp on the outside and juicy on the inside. I prefer this to the popular one thats available in the market (blame it on my Indian palate)since it had more flavors and was more spicy any day.  The marination is more thorough and since they don't use frozen meat as their competitor there is a better taste.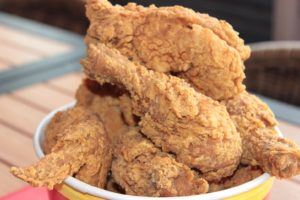 Good flavors but nothing that goes Thaiiiiii  The Masala crunchy chicken also was better than its competitor
2. CP Veg Burger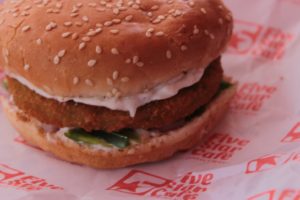 This is one of their low range offerings. However they should also have some premium burgers with lettuce and the works for people who know their burgers
Should provide a version more stuff (lettuce,cheese and the works) and keep a higher charge
3. Alu Paratha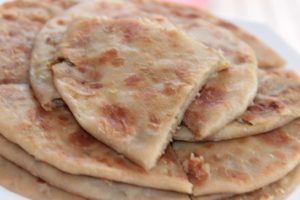 This was absolutely delectable with the right amount of spices and heat. It does not come with curd/yoghurt which could have been an excellent combination. It does come with a mix veg pickle accompaniment(which I thought was unnecessary) since the paratha as mentioned was was spicy enough
Did not come with curd/yoghurt
4. Peri Peri fries
This was as expected by the name and can bring in the smile by catering to the heat requirement
Rating 4/5
5. Veg Masala Roll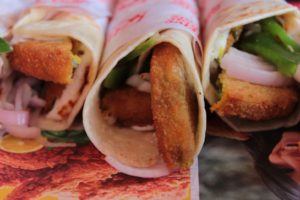 I personally liked this and considering I stay away from most veg items this is a statement indeed 😀 The fries are an excellent combo with the rolls
Rating 3.5/5
6. Chicken Biryani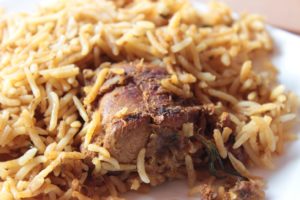 I am not a major biryani fan (yeah creatures like me do exist you know) but I was pleasantly surprised with the marination level which was more deep than compared to pieces I have tasted indifferent versions of biryani. They do not have a a typical Hyderabadi or Awadhi or other traditional style but cater to the general biryani loving people
Rating 4/5
7. Veg Biryani
This made me sit up and take notice. Honestly I preferred the taste of the veg biriyani to the chicken. YES ME who survives on NV said it again. What more do you need to know???
Rating 4.5/5
8.Corn Cheese nuggets/pop-ons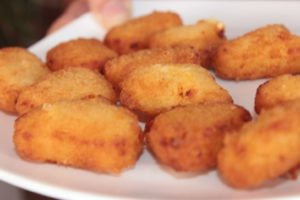 Nothing that made me go wow. Standard offering. Pop it and forget it. Average
Rating 3/5
9. Chicken Popcorn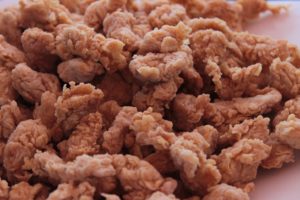 Another standard offering. Average………..Rating 3/5
We had a good interaction with the Five Star team and especially executive Chef Prabhmeet Singh who was very patient in answering our questions
All in all a good offering for veg as a start and it's a good move.  Looking forward to more items on the tasting list
My overall rating
Food 3.5/5
Service (in their outlets) 3.5/5
Ambiance 3.5/5