#invite #marwarifoodfestival #foodbloggers #Foodiemeetup #Rajasthani #FairfieldMarriotts #Kava #PadharoMaroDes
Was invited to try out the specially curated menu by Chef Bhuralal from the Pune Marriotts.  I reached there around 7:00 pm and was floored by the colors, ambience and attires of the staff.   Reflecting the colorful culture of  Rajasthan and just when I thought this was brilliant the food was revealed that we were to be served and that was another trip altogether.
Talking to the Chef, one could really feel his love towards food and his simplicity. A very down to earth and unassuming professional, each and every dish showed his expertise and skill. It was such a pleasure talking to him and getting glimpses of the marwari life. Starting off his love for cooking at a very young age he is now at a stage one can only envy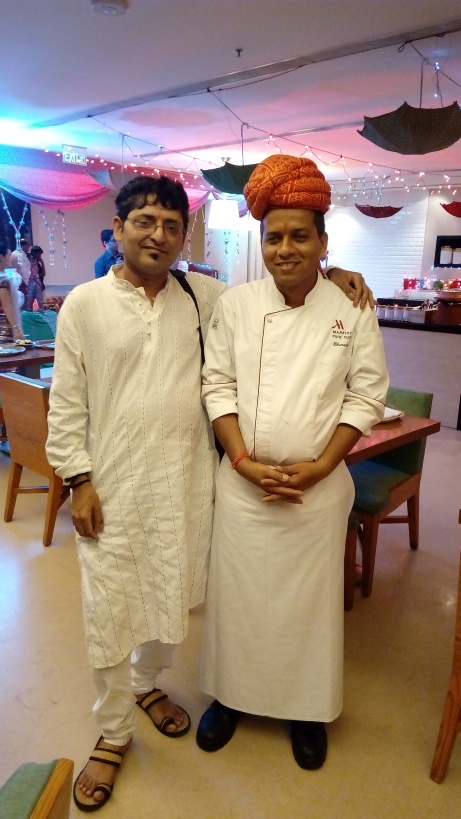 Since I was the first on the spot I was lucky enough to get to try the traditional drinks.   I tried a shot of everything they had on offer and that commenced my  incredible experience.
Maharaja Special –  A cool refreshing drink made from gulkand and pan leaves, this was my absolute favourite. The flavors of the pan leaves and gulkand subtly relaxing your senses and to make it ready for the main course extravaganza.
Shahi Gulab Sharbat – Given as a welcome drink, it tasted like Rooh Afza.
Jaljeera – One of my favourite all time drinks, it was spicy, tangy and everything a drink should be.  Try it with a shot of vodka!  (this is my take and not offered in the festival)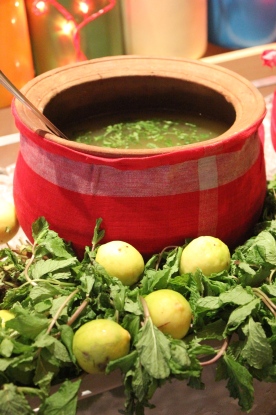 Thandai – a very popular North Indian drink made with poppy seeds and a little pepper. Usually made for summer and during holi (with bhaang) the poppy gives a nice fuzzy effect
Chaas (Buttermilk) – Needs no introduction, mildly spiced butter milk just right for the palate

After this I went to the live chat counter which had all my favourite stuff from golgappas, ragada pattice dahi puris… I tried the Ragda Pattice first and boy that kicked my taste buds into a frenzy. A combination of spice, sweet and tanginess merged together to form a balanced goodness. Well the perks of being punctual cannot be explained better 🙂  The dahi puri was "willingly" shared with another blogger who arrived (didn't want to stuff myself up :D).. Again another balanced beauty that kept increasing the expectation and happiness.



After a round of more photographs, I went to the pottery station (YES!) which had this potter who was creating mindblowing shapes and items out of a clay. It was a pleasure to watch him at work with nary a flaw.
By then all of the other members arrived and it was time to eat the main course.. Starting with a traditional aarti and teeka (snaps later ) we were made to wear a marwari turban and sit down with our legs crossed on a traditionally designed seat decorated with rose petals 🙂
Pic Credit – Navneeth T (Life on Plates)
Still reading??? Ok lets continue. Now to the main course
The food arrived and here is the list of what we sampled
Gulabi Sherbet (explained above)
Daal Baati Churma – An irresistible offering from Rajasthan. Fresh baatis deep fried in Ghee/Oil and then completely drowned in it..This is then mixed with daal and then some churma (made with jaggery). The thriple combination is enough for a glimpse of paradise.   Yes forget calories when you come for marwari food 😀
Gatte ki kadi – A curry made with yoghurt and gatta (gram flour made like churros). An exquisitely prepared dish
Gatte ki pullao – Pullao made with the same
Lal Maans (Mutton) – Not part of the regular offering but still a speciality of Rajasthan, Chef Bhuralal has outdone himself with this. He is pure veg and has not tasted this dish and yet it came out exceptional
Bajre ki khicchdi – Khichdi (consider it as a kind of risotto 🙂 ) made with pearl millets
Sangri ke sabji – A kind of beans local to rajasthan having a very long shelf life, this can be made into curries, fries or pickles. IN this case it was fries. Was a beautiful combination with the kicchdi. It can also be had with rice, rotis…. you got the picture.  I go crazy everytime I see this and end up finishing the whole dish when I am invited to someones house (I don't get invited anymore for this reason)
Lasoon (Garlic) Chutney – A fiery preparation of garlic and red chillies, not for the faint hearted. Usually had as a dip with fried goodies
Mirchi ke vade – Batter fried chilli (the non spicy kind)
Jalebi – Again had with sweetened cream.. Cannot go wrong with that !!
Moong ka Halwa – I found it a bit too sweet for my taste but the flavor was good and a delight for foodies with a sweet tooth
Here is how the full thali looks like
Enjoy the visuals of the other offerings
There you have it. A complete marwari meal that leaves you wishing there was a crane to lift you up after all that food.
The festival is on till 30 Sep, 2016 at Rs. 899 plus taxes for adults and Rs. 450 plus taxes for kids. What you waiting for?? Go crazy eating !
Linked to ABC Wednesday (L) with Lovely Experience and Food
Find them on Zomato