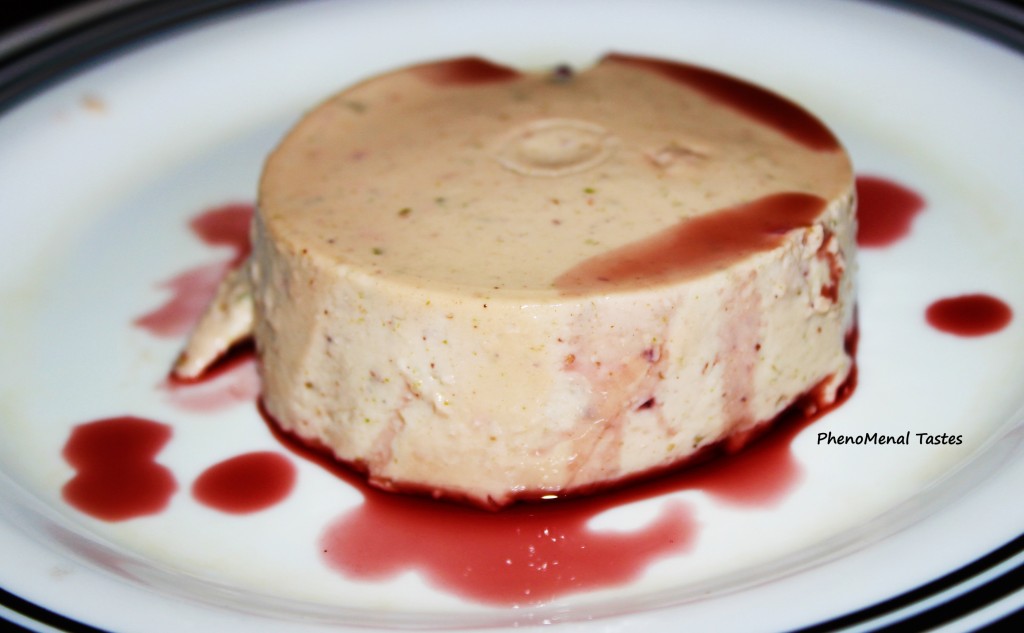 Dry fruit paste and betel leaf and supari (Arecanut) flavoured Panna Cotta @ home with a red wine sprinkle
1. Spray the ramekins (fancy word eh? I prefer the term katora) with cooking spray, then use a napkin to wipe out excess.
2. Sprinkle the powdered gelatin evenly over the milk.  It softens in about 5 minutes or until the surface of the milk is wrinkled and the gelatin grains look wet and slightly dissolved.
3. Set the saucepan over low heat and warm the milk gently whisking frequently. Make sure the milk does not boil or simmer and if  you see steam remove the saucepan from the stove and let it cool down. The gelatin will dissolve quickly usually at body temperature
4. Once the gelatin is dissolved, stir the sugar into the milk and continue warming until it dissolves as well, again making sure milk does not boil.
5. Remove the saucepan from the heat and whisk in the cream, vanilla, a paste of betel leaves, arecanuts, cachew, almonds and a pinch of salt.
5. Let it cool and pour the contents into the ramekins and chill overnight. Do not freeze…
6. While taking out the panna cotta from the mould warm it first in a bit of warm to loosen the pana cotta. Run a thin knife along the top part of the edge.
8.Invert the ramekin over a plate (which is slightly wet so the panna cotta can be re-positioned) and shake gently to help the panna cotta fall out.   Use can either put a sprinkle of red wine or for the teetotalers pomegranate juice can be used.
9. Eat your heart out 🙂
PS….The more days you keep the panna cotta the gelatin makes it firmer and rubbery but no worries bring it down to room temprature and it should be fine.
For the veggies if you are not comfortable using animal products such as gelatin,you can use China Grass, also called Agar Agar which should work just fine.
Thanks to the kitchn  for the original recipe