My better half, little half and I recently went to the Portland Steakhouse on Brunton road, Bangalore for lunch. It was a choice between Smokehouse Deli and this one. Steakhouse won it hands down. What with steaks in the name itself 🙂
The moment I entered,  the outdoorsy ambiance made me look forward to the experience. We had booked in advance but it wasn't all that necessary since there were tables available, which I must mention got occupied pretty fast.  By the time we got comfortably seated (we had a stroller as well) the crowd increased.
I started off with a martini (yeah on an afternoon 🙂 )
Since we really wanted to eat fast and get away before the kid got all cranky, we directly went for the main course. I went in for their specially marinated steak variety called Blast Furnace which is a beef steak (270 gms) marinated with their fiery lava sauce made with Ghost peppers (bhut jalokia), the famous pepper from the north eastern part of India. For another recipe and information that I have previously posted using prawn and ghost pepper click Prawn  fried in Butter garlic with Bhut Jolokia Sauce.   I was tempted by their Chateaubriand steak (350 gms and more) but I have had enough of them. Let's take a look at this beauty first shall we !!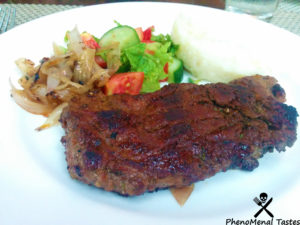 I don't like mine completely well done as it becomes hard and chewy. I ordered mine medium to well done and I couldn't ask for a more perfectly done steak. Each and every bite was an exquisite experience.  It was juicy with a nice flavor of the lava sauce and the sear just right giving it a nice smoky flavor. Mind you this is not for the faint hearted. When they say its HOT it really is HOT. The name does complete justice to the dish and I was literally sweating. However I like heat in my food and this was beyond words.  In fact I even went further and requested for an additional portion of the lava sauce…… Look at that color and you can imagine what it can do to your palate!!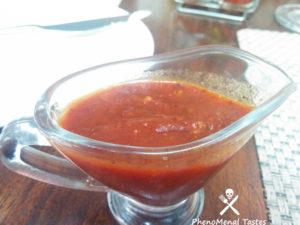 My better half went in for a Singapore Chilly fish steak. She is a fishy person and anything fish or seafood is her first choice. It was good but nothing to rave about. In fact when it comes to steaks nothing to beat red meat eh !!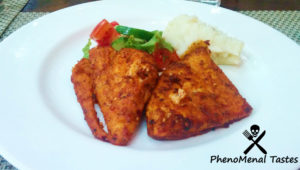 Well after all that heat we obviously needed something to calm the belly and that's where the creme brulee came in. Both of us loved it for its presentation and simple taste. It wasn't very sweet and just right on the tongue…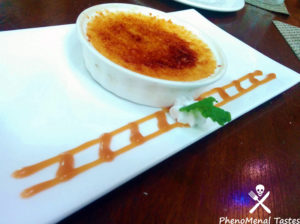 You can also see our junior trying his best to get to it 😀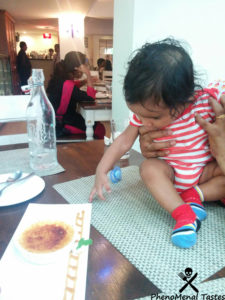 The bill came to around Rs.2100 which I think is pretty decent for the experience.  Oh  that's us happy and fulfilled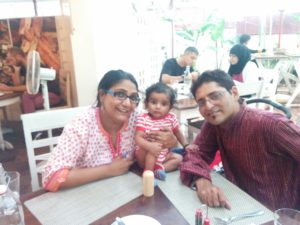 This is the same family that runs Only Place. The parents run Only place and the sibling run this one. Only place is another favourite of mine for steaks but a review on that some other time maybe.
Google Map of  the location here