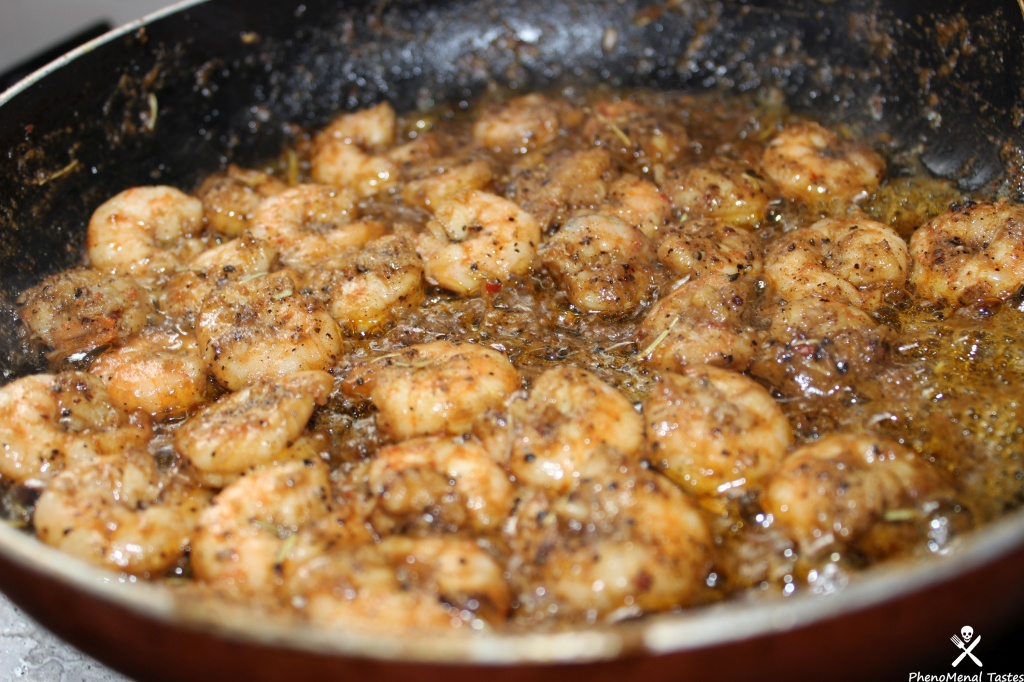 I recently got a batch of Bhut Jalokia (Ghost peppers) from Manipur thanks to a friend. With a Scoville  Scale close to 1.5 million, it ranks third among the hottest peppers in the world according to the Guiness  Records.  I am not trying to scare you with the heat unit but just to appreciate what this can do to your stomach if not used with care.  This is one of the easiest and quickest recipe with no major work involved but abundance of flavor and taste. Since the prawns is delicate I usually avoid too many spices to lose the taste of the meat.  For this recipe, you will need. My measurements are as needed and don't follow a definite system
Prawns
olive oil
my own mix of cinnamon, clove, black and green cardamom, mace and star anise
Cayenne pepper
Dried Rosemary, thyme, parsley
crushed pepper
Quarter tea-spoon Bhut Jalokia (Ghost Pepper) paste I made from fresh peppers and stored  with olive oil.  You can always substitute this with the normal peppers if you are among the faint hearted 🙂
a pinch of sugar (it does not make it sweet but enhances the flavors to an unbelievable level)
Lemon juice
sea salt (or normal if not available)
butter
finely cut garlic and ginger
crushed pepper
Clean and de-vein the prawns well. I am terribly allergic to the poop chute  (the black vein below the body of the prawns) and make sure it is completely removed before I even begin to start cooking with it.
Make a marinade of the above mixture (taste to check for acidity and salt) and apply liberally on the prawns. If its the tiger or emperor prawns make sure each individual pieces are coated well with the marinade.  Keep it aside for about 15 mins in the fridge or freezer. Since its a very delicate meat prawns take up the essence of the spices very quickly. Bring it down to room temperature before you begin the frying process.
Put a good chunk of butter in a saucepan on low heat (the entire frying will be done on low heat) so it does not burn and let it nicely coat the saucepan. Add the crushed garlic and ginger and mix well till your nose gets lost in the aroma of the butter garlic.  Add the prawns and keep stirring them for about a minute. Cover with lid and let it cook for another 7-8 mins and stir again till you see circles of meat. Another one minute of stirring and voila we are done !! Simple no?
Sprinkle some fresh herbs (not coriander or parsley or serve it just like that if you dont have any) and add lime if you want that hit of fresh acidity.  If its too spicy for you you could think of adding some cream (add it slow on low heat so it does not curdle or coconut milk and stir till thick)
For the veggies any of the vegetables can substitute for the prawns.
By the way how do you like my new signature based on the pirates?  ARRRRRRRRRR !
Bon Appétit !!
Warning – Unless you have used gloves to handle the ghost pepper make sure your hands are thoroughly washed before you bring them in contact with any sensitive parts like eye, nose etc or handling young children.
Linked to ABC Wendesday (M) with Mmmmmmmmmmm……….