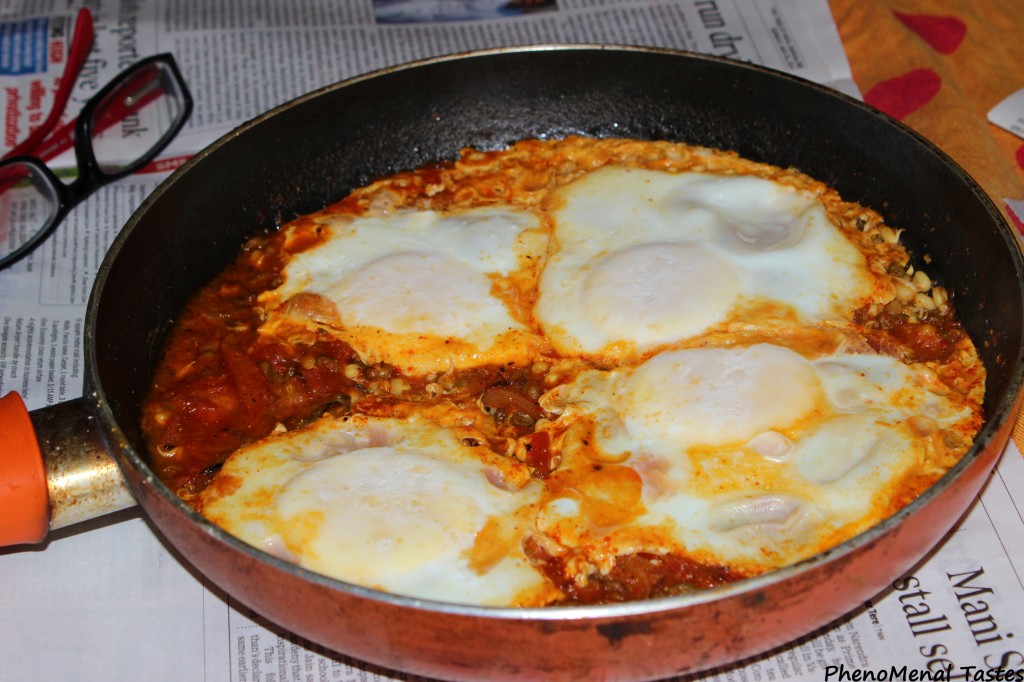 Believed to be originated from Tunisia or North Africa, Shakshuka is a popular breakfast in quite a few places including Israel, Morocco to name a few. However I think it can be had anytime for breakfast, lunch or supper. I came across this and when I heard it first time I thought the person sneezed and almost went with "Bless You" !!
When I got more details and information on this it almost made me curious to try at home and came out quite well.   After all this I just thought it was quite similar to the south indian mutta (egg) curry with a twist.  Still interested in trying it out?? Keep reading….
Ingredients
4 eggs,
1 to 2 large onions
1 capsicum
4-5 pods of garlic
chopped ginger
Tomatoes – 2
Tomato puree or paste (if u can make it well and good)
Coriander or parsley
Let's go !
Heat the skillet with some olive oil and put in the onions. Fry till it changes color and then add the garlic and green chillies till they start complaining. Add the ginger.  Fry again for  a min.
Add the capsicum and fry for a min or two ( I like mine a little crisp).
Add the tomatoes and tomato paste and then add in the spices that you have (I have this mixture of cinnamon, start anise, mace. cloves, nutmeg and black pepper) and a sprinkle of cayenne pepper as well as sugar and fry till the sauce reduces to some extent and becomes a little thick. Taste the sauc e and adjust according to your preference.
Break the 4 eggs slowly on diff parts of the skillet so they don't form one single mess and cover the lid
Put the stove on simmer till the eggs are cooked. Make sure the sauce is not too reduced or it can burn the whole thing.. Dont be a Nero and play the fiddle while the sauce burns. Rather keep watching it from time to time.
If you like the eggs runny then u can break the eggs after the sauce has reduced quite a bit and then cover for minimum time.
Take it out sprinkle some cheese and olive oil. Enjoy the experience..  Bon Apetit !