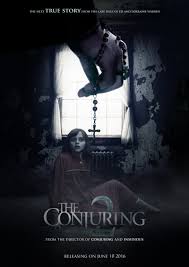 I am a big big fan of horror movies.Not the mindless horror of monsters and demons but evil that strikes terror into our heart. Among the old ones, I love movies like shock, poltergiest, Omen  and of course the exorcist. There have been some good movies recently and I especially love the sense of creepiness the Koreans and Japanese have. They really can make one shiver. Movies like Juno (in English – grudge), the ring, two sisters (Korean) actually make you stop and check.. is there really something around?
I saw the first part of conjuring and I was impressed. It was a good offering which really made you jump in your seat in some scenes.
I went to see Conjuring 2 in the same anticipation. The movie is along the same lines as the first but just not creepy enough. Horror movie endings for me should really be creepy and make me look over my shoulder. The end of conjuring 2 dissed me off completely and I am not happy. Too much into demonic possessions this doesn't grab my fancy anymore.  The evil that humans are capable of is so much more scary than demonic possessions I think
I blame all of this on the supernatural series (my absolute favourite) on  AXN that has made a mockery of the demonic
What I am really waiting for is the Lights Out release in July. Now that is going to be good I suspect. The short movie was really really creepy. Haven't seen it? Here it is
Rating
Sound affects 3.5/5
Camera – 3.5/5
Overall scare – 3/5.