#invite #bloggermeet #TeaTrailsBistro
 I was invited as part of a bloggers meet to try out their tea paired with food.  It isn't a new concept and we have quite a few tea outlets in Bangalore the most prominent being Infinitea (check out my profile for review on it)
The ambience of Tea Trail is nice and cosy and sets the expectation rightaway.  I was also observing the service at the other tables and what I saw pleased me.
Did you know not all tea should be made with boiling water? In fact some of the ones I had was made in warm water  and steeped for just 2-3 mins and that's how it is to be enjoyed. A serendipi-tea eh?? It was a well arranged event led by Shekhar Debbarna who explained the nuances of the tea and the premise of the pairing.
1. We started off a rare white tea called Silver Needle. Its expensive and apparently sold for Rs 1 lakh a kilo in the UK. This was paired with Bun Maska which was a worthwhile combination. The maska providing the glucose not provided in the tea. Usually all tea leaves are oxidized but this one does not go through the process so its absolute premium and super expensive. It is made in 80 degrees water (never boiling) and steeped for 2 mins. The result is almost water like  tea but very flavorful. It is also an excellent anti-aging I am told.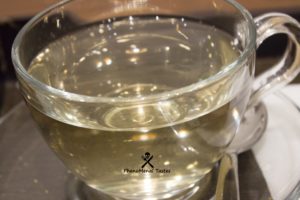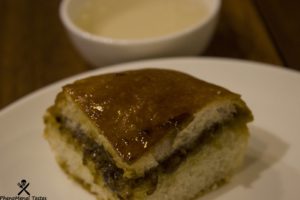 2. The next team served was Kashmi Kahwa with almonds and this was paired with a burmese tea salad. The salad was light and crunchy and was a good complement to the crunchy sip of the kahwa.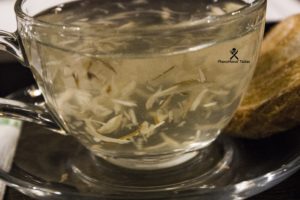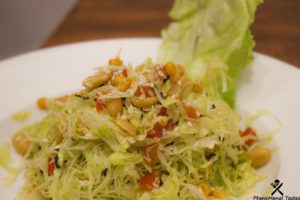 3. 3 cheese risotto was absolutely exquisite. Made from arborio rice every spoonful was a delight to the senses with the cheese providing another complete trip
4. Lapsang Souchong a black tea from China with a smoky was stronger than the rest of the tea I had but was very flavorful. This was paired with a smoky sandwich
5. Matcha Brocolli tea soup – Matcha imported from Japan and mixed with Broccoli. An interesting soup indeed and well paired with the olive and green tea bruschetta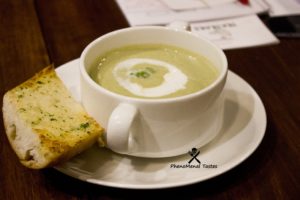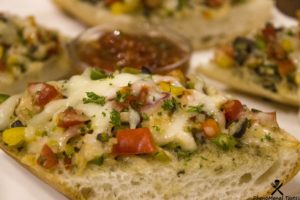 7.  The lychee bubble tea was a fun drink where these fruity bubbles travel up a wide straw and burst in your mouth in a lychee frenzy. The tapioca bubbles are imported from Thailand
8. Better wife – As the name justifies, this was an interesting drink and like all husbands I got it wrong what it was made of 🙂
9.  Kulhad Chai – The traditional Indian chai served in a clay cup and paired with onion pakoda. Nothing to beat that on a rainy day. The chai had a nice clove flavor
10. Marbled Eggs – This was an interesting looking salad with multicolored dressed eggs.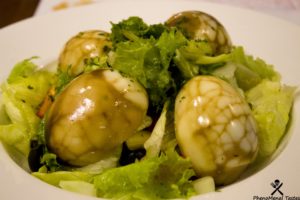 11. Red Zen – A dessert tea infused with flowers and herbs. Lovely way to finish the experience.
Along with that we were also served tea pancake, cheese fondue, an interesting dish called Egg Kejriwal and red velvet cake. The tea pancake combo was interesting with a orange jelly, maple syrup and honey.  Not much of a cake fan so I let that rest. Fondue was average as well.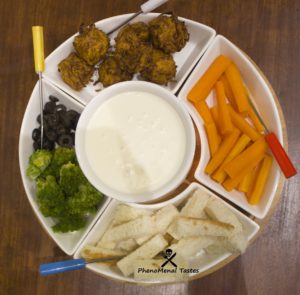 Egg Kejriwal was spicy and full of drama. Well justified name… I am told you also get good versions of this in the egg factory…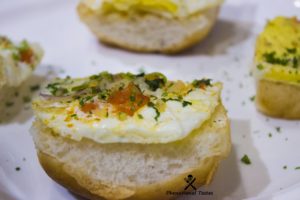 Don't go overboard with the  food and waste it as it will pinch your pocket.  Staff is courteous and will help with the suggestion and pairing so go ahead and enjoy the hear-tea experience
Enjoy the rest of the visuals
Find them on Zomato