Farzi Cafe has always been associated with food which is a visual drama in terms of presentation and lovely service. It's always an experience to be here since the team is always doing something innovative and fancy. Phenomenal World was invited to the new fancy pants menu and what a delight that was with satiated throats and bellies. The setup was lovely with an exclusive tale for us
What we Gulped and Wolfed at Farzi?
There are 4 brews on tap – Hefe, IPA, Rauch (Christmas Ale) and the Saison..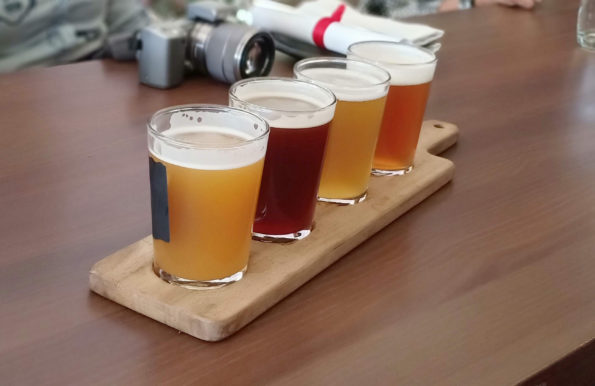 Among these the Rauch and the Saison were my picks with the IPA close behind.. I am not a hefe person. The Rauch had great smoky flavors, the spice in the saison salivates the taste buds and complements the food and the IPA has a great balanced bitterness.
Farzi is one of my favourite places for Whiskey sour and they make it as good as it can get. Brilliant stuff.
The amuse bouche with chilled quenelles of mango and liquid nitrogen giving a visual treat.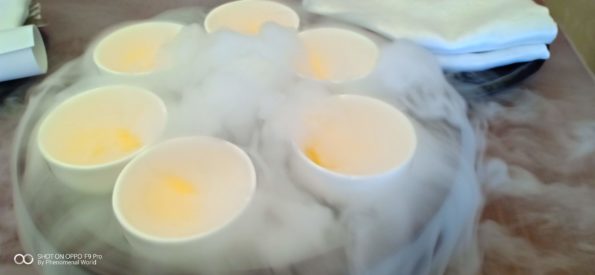 Artisanal Tomato Soup – Loved the presentation of the garlic rusk on top and the drama of pouring the soup into the bowl. Great flavors and a perfect start (for vegetarians 
🙂 )
Watch the video
The non veg version had an exquisite chicken soup thickened with almond to be mixed with chicken croquette and a lemon and green chilli emulsification. A must try.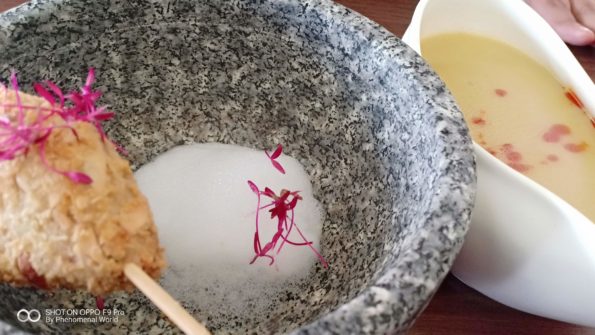 Tapas
Chicken Wings with Blue Cheese Raita -The chicken was marinated with Thalassery masala and had a burst of flavor. A lovely hit of green chillies to keep the taste buds salivating.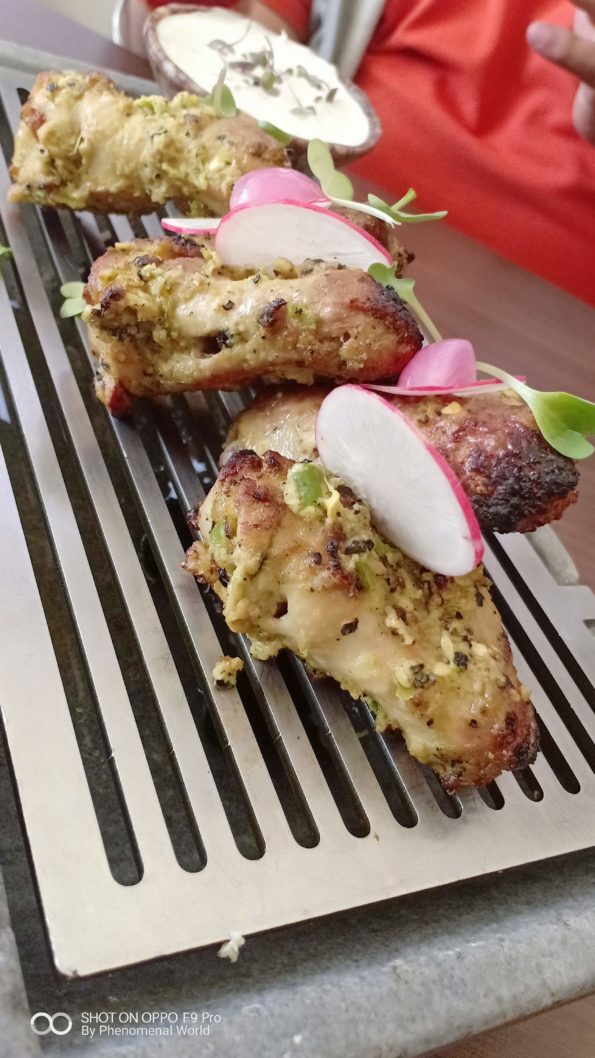 Paniyaram Scotch Eggs – Another fun dish which had quail sunny side up on a paniyaram (or paddu).I could eat these all day but the heat from the eggs will probably kill me (the heat from a quail egg is supposed to be thrice a regular egg)
Mutthu Anna Favourite Mutton Sukka – Exquisitely done mutton chunks made in the typical chettinad way. Skilful use of spices with nothing too overpowering. A top class dish. Get your red meat fix right here.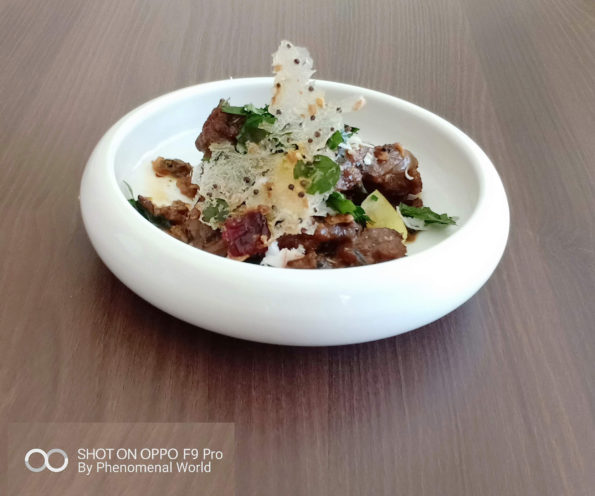 Others
Desi Tacos – Made with Jowar flour and inspired from a farmers diet, this was as earthy as it could get. The tacos were crisp and the filling had a good flavor.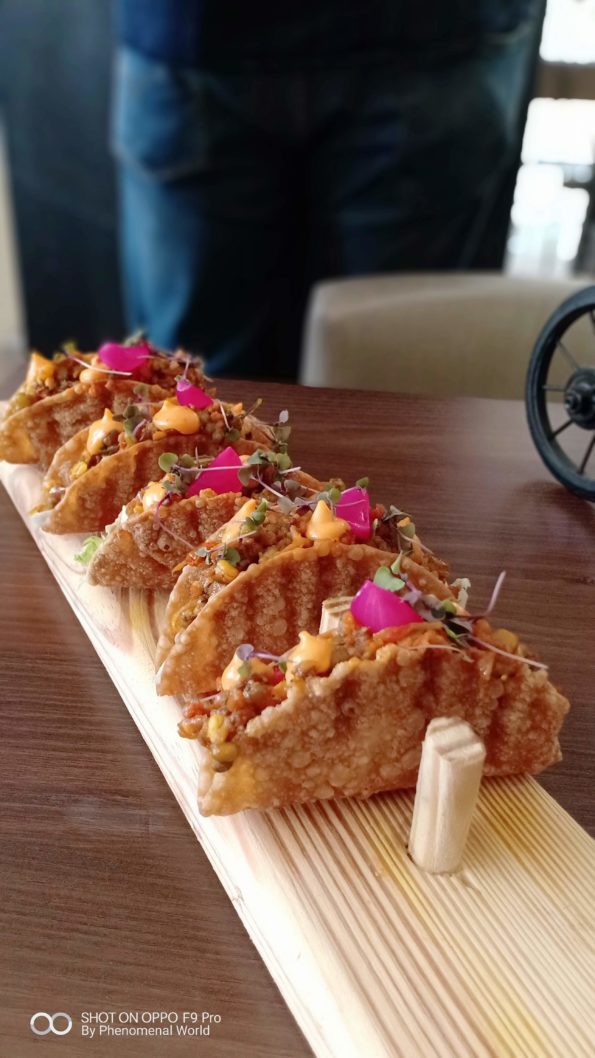 Burrata Tokri Chaat – A take on the traditional tokri chat, this was fun.
Chilli Cheese Kulcha – A cheesy bite in every way possible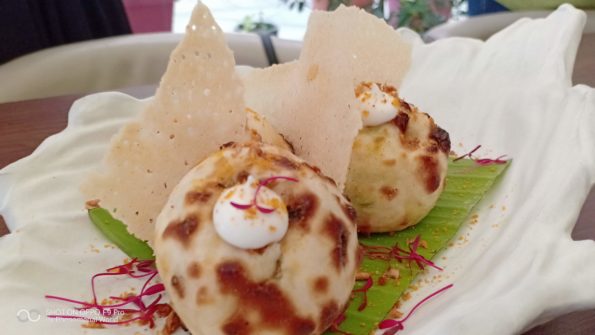 Also had assorted poppadoms with dips.Always a welcome addition to any meal.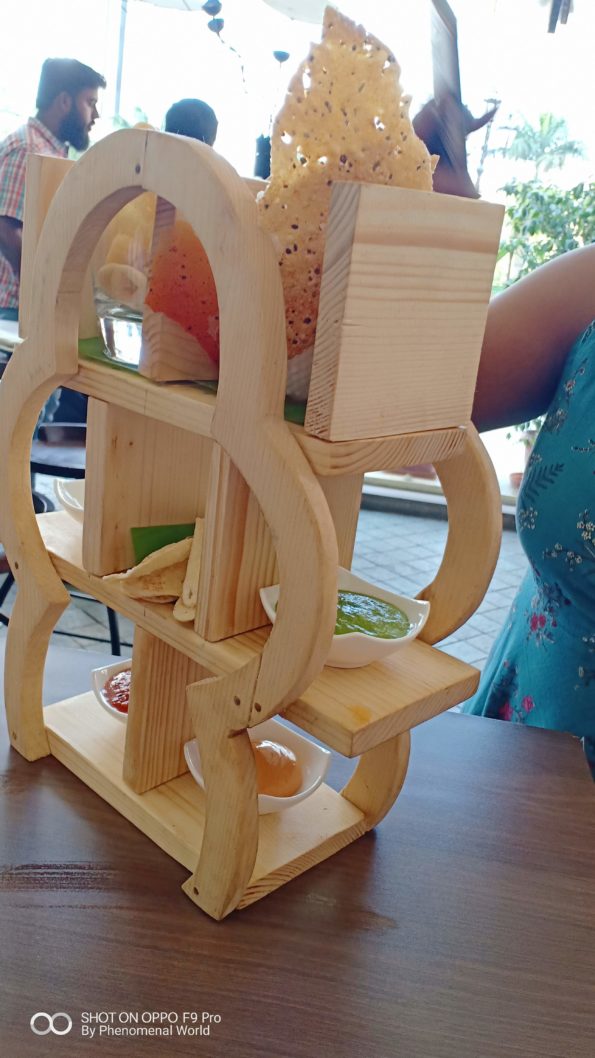 Well those were the starters alone 
Mains
In House Fries Ratatouille Pav Bhaji (served with Bowl Maska Focaccia, Onion, Masala Butter) – The pav was beautifully soft to eat and the ratatouille very cheesy with strands coming from every scoop of the spoon.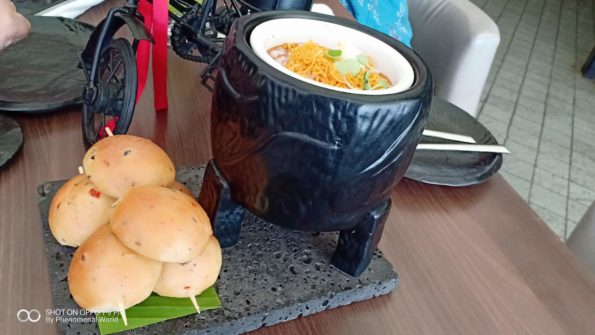 Desi Veg Sizzler Mushroom And Cheese Sizzler (served with Herb Rice, Grill Tomato) – A tad too bland for my taste but the cheese helps you tide over 
😀
Desi Chicken Kalimiri Sizzler – I already had my fill of chicken so just had a few bites. Not bad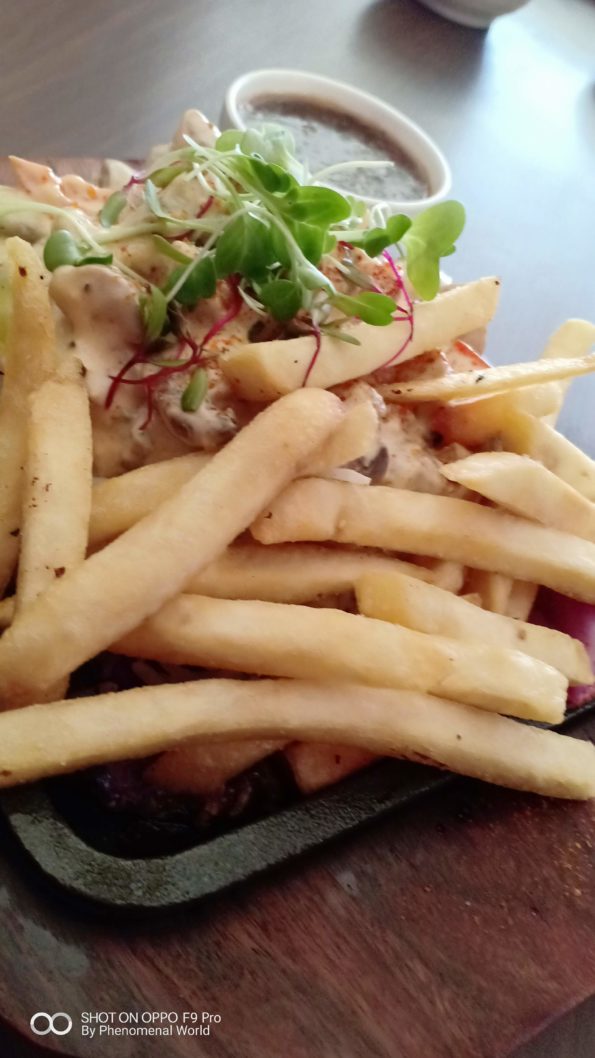 Gongura chicken – Decent. Though the gongura leaves could have been sourced from Andhra considering their  stress on premium ingredients.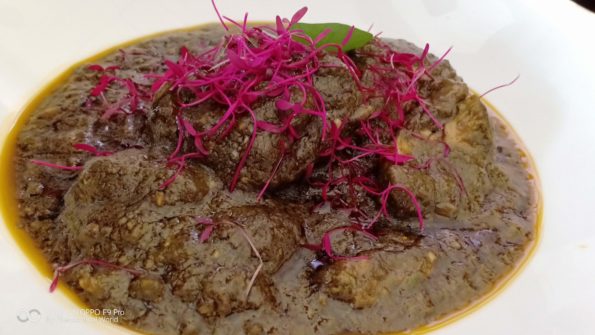 Dessert
Deconstructed Lemon Tart – A painting on a plate literally. Beautiful presentation. Not a sweet person but this did hit a sweet spot 
😀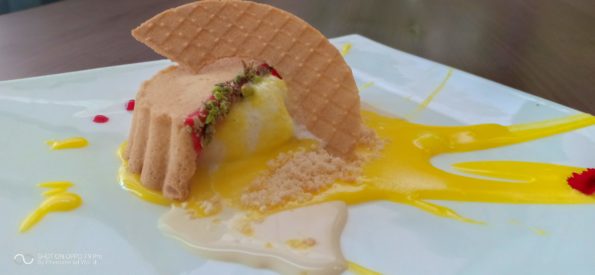 Upside Down Black Sesame & Jaggery Ice Cream, Almond Chikki Crumb – I loved this one. The Sesame and jaggery icecream was not too sweet and the presentation with an upside down waffle cone was quirky enough to get through. I love doing opposites.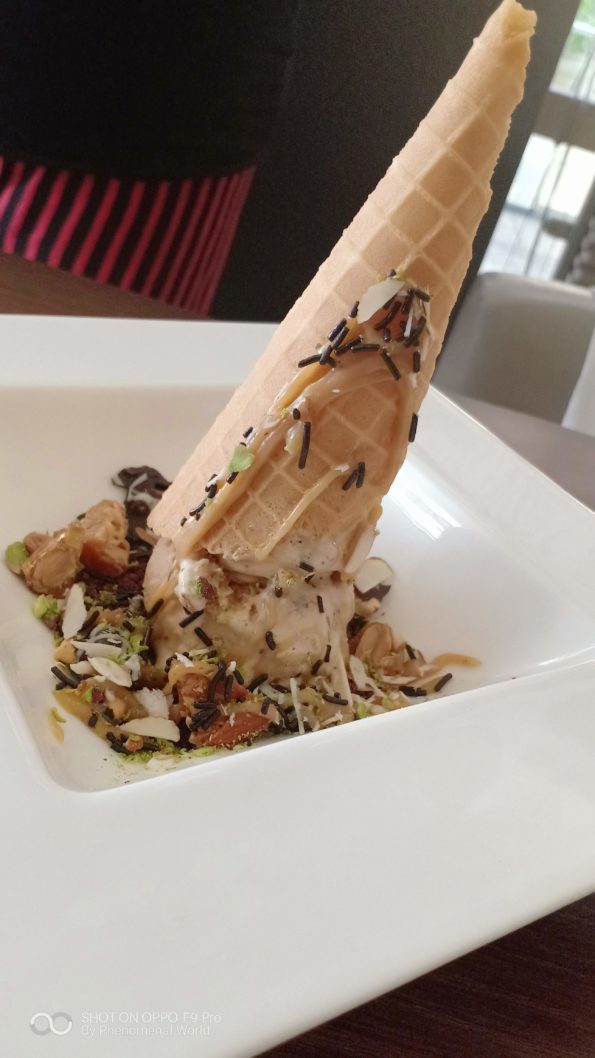 Apart from this the candy floss with pan flavor served on a lemon plant was interesting as well as a lollypop kind of tamarind toffee. Reminded me of those soft imli candies
Ending with Farzi's usual send off. Floss stuffed with mukwas or pan ingredients.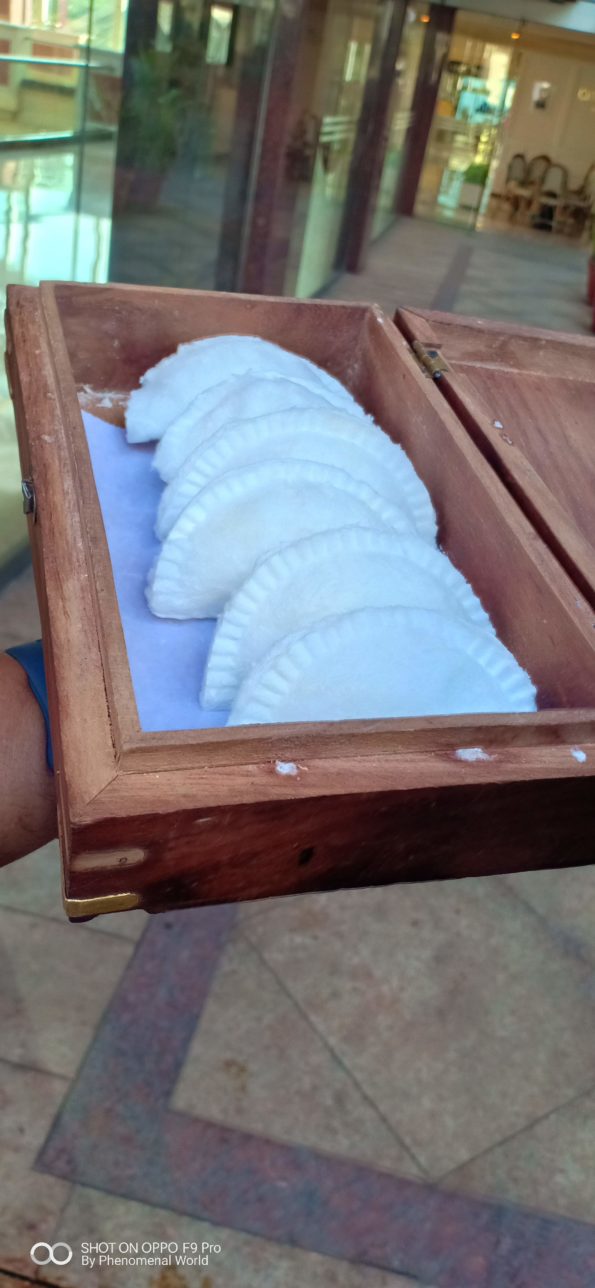 All in all it was lovely to get #farzified with friends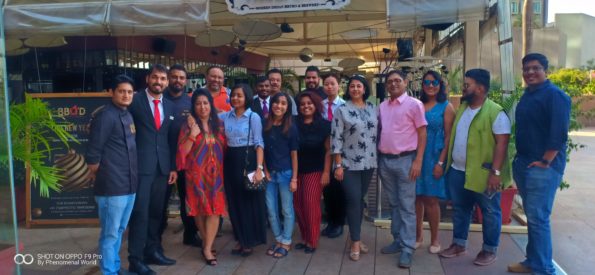 Thanks Rupa Balachandar Rekha Ghosh Farzi Café, UB City for this lovely experience.