#BangaloreCocktailWeek #MasterClass #Whiskey with #JamieWalker
We had a scintillating #masterclass @ #Watsons  taken by the master Jamie Walker himself. I like this place. It has this comforting ambience and a wall of books seals the deal completely.
Coming to the masterclass, it was a really fun and amazing time spent with like minded foodies (or should I call it drinkies?) . A few great scotch brands were tasted for identifying the notes, aromas and tastes. Black & White, Vat 69, Black Dog Triple Gold Reserve, Johnnie Walker Red Label and Black Label were the ones that we became intimate friends with.   My favourite among this was the Black Dog followed closely by the Black Label and Vat 69 (hmm maybe I like the color black eh?
There was a lot of discussion on the correct ways of drinking whisky as well as the pros and cons of single malt as compared to blended scotch.  The age label is something that most companies are removing from their packaging atleast in the international market. In India the age of the blend or single malt continues to be the deciding factor along with the price of course.
We also had good fun making cocktails from shaken to stirred using these fine scotch blends. When cocktails cometh can beer be far behind. The whole session was wrapped with a mug to chug!Enjoy the visuals.
Though snacks were not part of this session, I ordered  Pork Pepper fry, Beef Chilly and Andhra Chicken.  The pork pepper fry was  delectable with the kodava (Coorg) spices getting mischievous on the palate and leaving you in a comforting confusion of flavors. It also had a pleasing stink of the green chillies that was a beautiful pairing with the sweet cocktails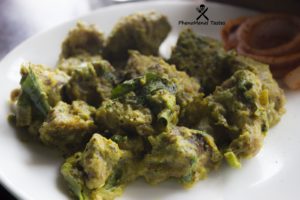 The beef chilly was made in Kerala style and just right for the splendid scotch.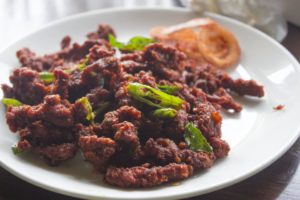 The Andhra chicken was average….
All in all a great time.  It was an evening of fun knowledge and fine tastings. Leaving behind happy faces (a lot of it is because of the cocktails 😉 )
My Rating
Ambience – 4/5
Food – 4/5
Service – 4/5
Linked to ABC Wednesday(H) with High on Spirits
Find Watsons on Zomato