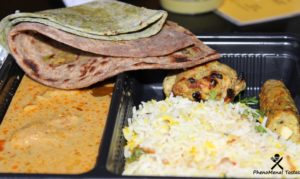 As a part of the Food Bloggers association of Bangalore, I had an opportunity to  interact with the Zzungry.com team and also taste one of their combo. It was an extremely interactive session with Subash Baligar, Sandeep Rana and Ashish Kalya the co-founders explaining the concept and the premise behind their selecting the Indian cuisine as  their choice of offering to the hungry customers.
It certainly is true that Indian cuisine is not looked at with interest by us Indians. World cuisines such as Lebanese, Italian,French etc has captured the imagination of ours and with programs like masterchef, top chef and other competitive shows and travel/food programs.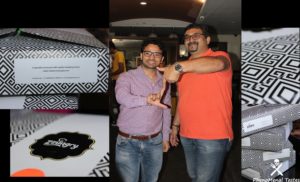 However I was quite pleased to meet someone who shared my inner most feeling that by not exploring Indian, I was missing out on one of the most exotic cuisines in the world.  I was happy to note the confident start they have had and also the kind of customer base they are creating who have been raving about the cuisine selection.
It's an interesting idea to go select the traditional dishes from parts of India and making it available to people of Bangalore. They are priced higher than the regular food delivery companies but the quality and taste and the varied exotic menu, I think justifies to an extent the price and I certainly will not mind ordering in for any get together I have at my place or with my friends or family.
So coming to going to the experience of having their combo. We met up with the team in J's Cafe (www.chaipatty.com), Indira Nagar 100 feet road where I started off with some elaichi tea in an earthern pot called kullad. Given a choice between V and NV, my choice was obviously the NV. The NV offering consisted of
1.Dum Nizami Murg(gravy) – Absolutely rich gravy,mildly spiced and perfectly balanced flavors. The chicken pieces had bone but we did give a feedback to make it boneless since plastic spoons are such a put off for eating chicken with bone
2.Pullao – Very fresh and a perfect combination with the gravy
3 Sholay Kabab – 1 piece – Melt in the mouth pieces with a hit of heat. Perfect !
4. Murg makhmali seekh – 1 piece – Seekh with cheese stuffed in it.  The cheese was a perfect balance to the masalas outside
5. Palak roti – Interesting look and taste and so much more fun than eating ordinary rotis
6 Nachni (ragi) butta  roti – Rotis made with Ragi and also had corn in between. How corny is that !! 🙂 but I loved it.
There also was a roti with tomato base which looked interesting but unfortunately could not taste.
The packaging also is very striking in contrast and pattern and the entire package is like a neatly packed birthday present that you just can't wait to open up.
The combo obviously makes sense for single people who do not have to carry over the food to the next day and also get to have a bite of different things
Oh and why the same zzungry?  It's hungry with a zing and this is straight from the horse's mouth
P.S – I have heard rave reviews of the Tandoori Malai Broccoli so that's something I am certainly going to order in the next two days