Feeling Hot hot hot – Lunch at Andhra Chillies
I went with my brother in crime to Andhra Chilies after some work we had at that part of town. We stay exactly 27 kms away and rarely go to that area. However it was a good time and you find hidden gems just about anywhere… It's a small drab looking place and will not impress anyone. However we were hungry and looks did not matter to us.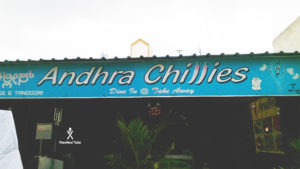 We ordered mutton biryani and andhra chicken. The mutton biryani was typical andhra style ala Meghna  ( click on name for review) style. Absolutely mind blowing and spicy enough to make the taste buds sing.  along with the salan and raita it was a guilty pleasures until it got over. The andhra chicken lived upto its name. It was juicy, HOT and made us sweat on a pleasant day. If you like spicy hot food, this is indeed the place for you.
Rating
Food 3.5/5
Ambience 3/5
Service 3.5/5
Find them on Zomato