I was invited for the new menu tasting of Saffron – Park Plaza and was all excited since I had heard good things about the place. This was part of the 41st Food Bloggers Association of Bangalore (FBAB) meetup
The Ambience
It's beautifully and subtly lit for a romantic feel. The entrance had a platter of spices and mouth-freshners (so you still leave fresh!)  I was attracted to the huge antique necklaces on display. The outdoor seating was also very nicely lit and had incense burning for a pleasing aroma.   All in all it set the expectation for the menu
Saffron is an expensive ingredient and only the rich or the royal could afford it. The new menu had a good choice of both vegetarian and non vegetarian that was truly Indian and royal and reflected the richness in the food.
The New Menu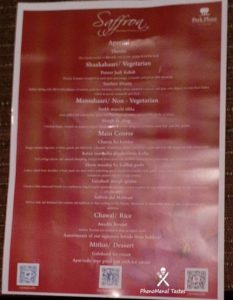 1. Thandai – Started with the thandai which is a traditional cooling drink with lots of nuts like badam, pista and khus khus and a pinch of pepper to tease the throad. This was tastefully arranged with rose petals. It was good and a good start to the treat we were going to have. One suggestion I would give would be to chill it and serve it cold rather than with icecubes as they tend to dilute the thandai if kept for a time.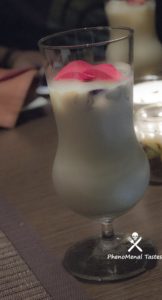 2. Surkhi Macchi – This was exceptionally done with the spices running amok among the palate and teasing those taste buds into full activation mode. It was beautifully spiced and cooked and I must have had a couple more than I intended.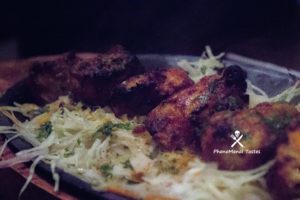 3. Murg Champ – Though not particularly found of chicken, this was lovely and a challenge to all those who do not like chicken. It was very well cooked with the right combination of spices that worked wonders.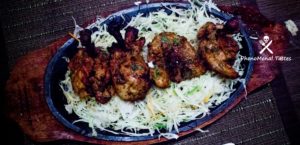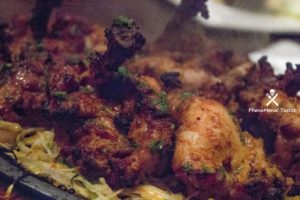 4. Paneer – Another kabab that surprised me with its taste. Paneer if not marinated well tends to have its own bland flavor that a marinade does not penetrate. This was different and lovely to eat.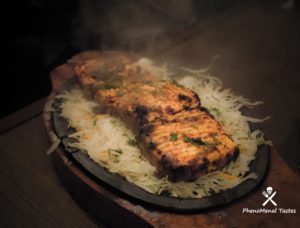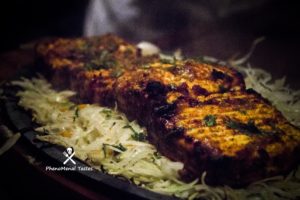 All of the kababs were served as a sizzler so it was lovely to see the smoke coming from the platter when they brought it
5. Chooran ke Kareley – A stuffed bitter gourd dish it was supposed to have the local tangy spices but they could be a bit more generous.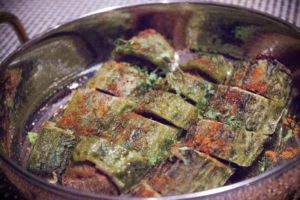 6. Ratan Manjushi Alubukhara Kofta – A lovely dumpling dish which had potatoes, plums, prunes, apricots and many other ingredients that was pleasantly sweet with the spices cutting through for a complete satisfying dish. I liked it though I am not particularly a sweet person (take that any way you want it 🙂  )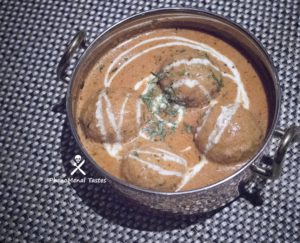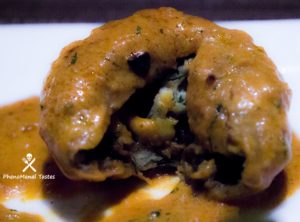 7. Saffron Dal Makhni – After all the fancy food in fancy places what really satisfies me is a daal and roti. Give me this anytime and I could do away with all of those fancy thingies. Dal makhni [articularly is my favourite made with black ural dal. Nothing beats mine or my mothers preparation but this dal was very very close and a delight to eat with the roti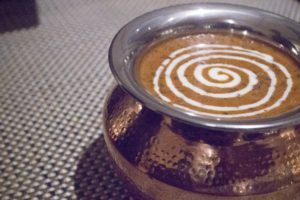 8. Faizabadi Murg Qorma – A very nice gravy of chicken which succulently cooked pieces. I took a small bite to experience the piece and how well it was cooked. The gravy was lightly spiced and a perfect blend if flavors. A good combination with rotis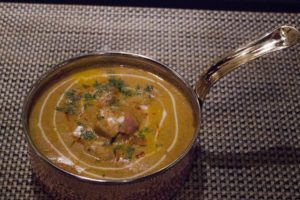 9. Awadhi Murg Biryani – This was good with very nicely cooked chicken pieces.  What I like about awadhi biryani is the skillful use of spices and flavors that does not overpower the tastebuds or kill them. This was skillfully prepared.  They also have veg biryani.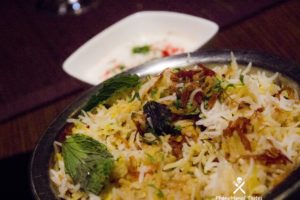 10.Harrey masale ke kadhai Gosht – I had  a difference of experience with this one. While most of them got beautifully cooked mutton that melted in the mouth I felt mine was a bit rubbery. However the gravy prepared with spinach was excellent.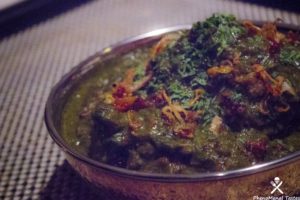 11. Gulkand Icecream – A great end to the occasion, the icecream had a good flavor of gulkand and wasn't sickeningly sweet. I liked the restraint they used on the sweetness and that scored a mark with me.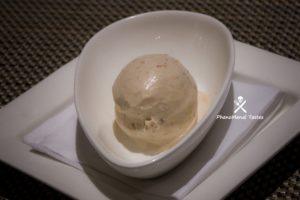 All in all a great experience to the traditional North India royal dishes and one you must taste both vegetarians and non vegetarians alike… The service till the last dish was impeccable
Rating
Food 4/5
Service 4.5/5
Ambience 4/5
Linked to ABC Wednesday(I) with Ignite
Find them on Zomato