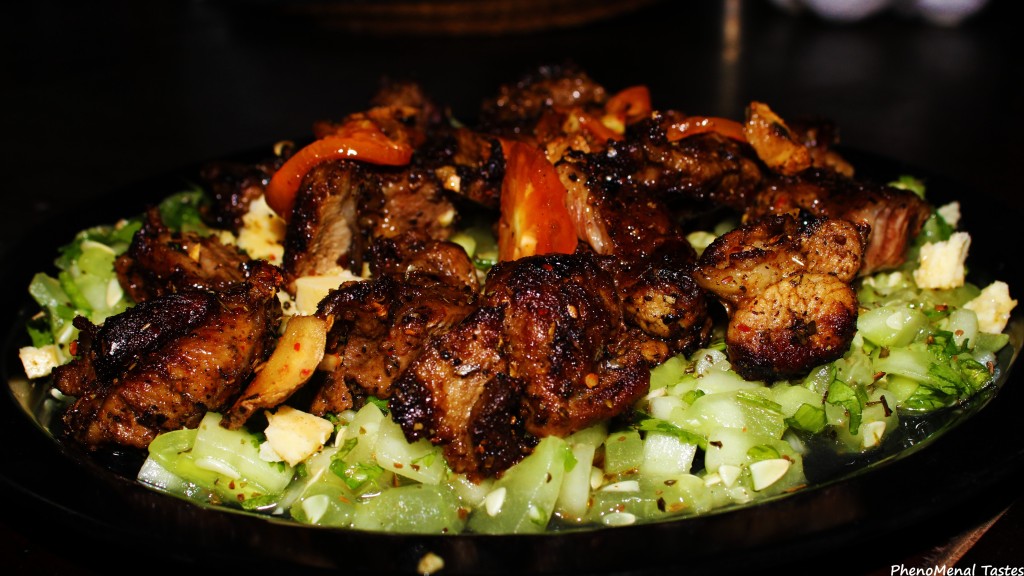 A fresh and zingy dish the ingredients are all fresh and the flavor of the salad bed can add a real zing to the grilled lamb
Ingredients
1. Cucumber,
2. Coriander leaves
3. Lamb steak
4. Spices (My spice mix of star anise, cinnamon, cardamom,mace and nutmeg)
5. Paprika, chilly flakes, oregano powder, ginger garlic paste
6. Tomatoes
Follow they method…….
 Marinate the lamb with the spices, paprika, ginger garlic paste and a little sea salt and refrigerate for 2 hrs ( overnight for best flavor)
Cut the cucumber into small dices, put a good sprinkle of sea salt and leave it for around 2 hrs(u can work on the steps below till then). This releases all the water from the cucumber which can be thrown out.  Yes salt releases water from the cucumber at an unprecedented rate 🙂
Add oregano powder, chilly flakes to a good dash extra virgin olive oil in a baking dish and  put the marinated lamb over it making sure to coat both sides. Let it sit there for half hour to absorb the flavor of the oil.
Now sear it for about 3.5 mins each side (or depending on the thickness of the steak pieces).Don't add any more oil to the pan while searing, the aromatic oil is more than sufficient. Add a little salt just before taking out so it seals the meat.
Once u get a good sear on both sides, transfer to a preheated oven at about 200 C and bake for about 20 – 25 mins with fresh tomatoes.  Let it rest for 1 – 15 mins. Till then follow  the step below
Squeeze the cucumber to remove the remaining water and add some coriander and finely chopped green chilly (not mandatory if u don't like it too much heat). You could also use other salad thingies like lettuce, carrots, chinese cabbage etc
Mix well with a little sea saltand place it like a bed on the serving plate. Cut the steak into decent chunks (too tiny and u don't get the feel of the meet) and spread throughout the salad bed. Spread some Gruyere cheese and its ready to roll !!
You can also use Parmesan for the cheese spread but avoid the salt in the salad since Parmesan itself has salt content. For the veggies use could try with grilled vegetables or paneer (Cottage cheese). 
Bon Apetit !
P.S – It would be a good idea to use a food thermometer to check the temp of the steak in between so its not either too well done or  rare
Linked to ABC Wednesday (Z) and that brings us to the end of this season and the start of the next from next Wednesay !!