#magicofItaly #phenomenalworld #phenomenaltastes #chefNicola #italian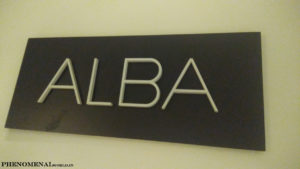 Italian cuisine especially from the Neapolitan region is all about using the freshest ingredients and making the best use of their natural flavors.  Skilful use of cheese and cream enhances the flavors to an unbelievable level altogether. Experience this magic of Neopolitan cuisine by the international Chef Nicola Coasta from Naples  at Alba, JW Marriotts.  The italian at any of the Marriotts is incredible and not to be missed.  Here's my previous review of Alto Vino
After the warm welcomes and introductions we got ready to savor the magic created by the Chef.  I loved the table that displayed different olive oils and balsamic to be eaten with bread chunks.
I was given this welcome drink which was particularly too sweet for my liking but it had a fresh flavor and could grow on you without you realizing it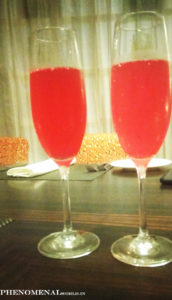 Amuse Bouche
A lovely pizza Montanara which was a tiny fried pizza with tomato and buffalo mozzarella. It was creamy and did the right things to the palate. It certainly raised the expectations of the courses set to come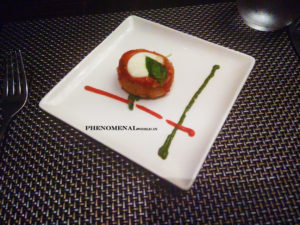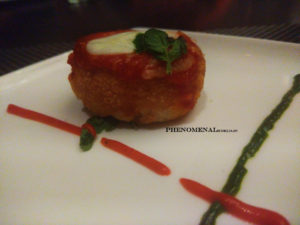 The next that came was a fried pumpkin with goat cheese foam salad with balsamic caviar and cherry tomato confit. I am not a big fan of either pumpkin or caviar. But the balsamic did all the right things to the caviar and with the pumpkin and cheese foam it was exquisite. A lovely wholesome flavor. Give me caviar like this anytime.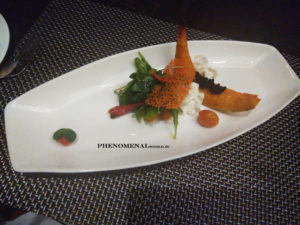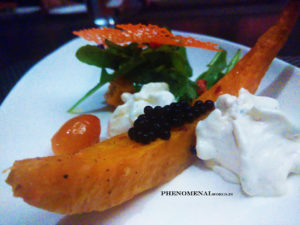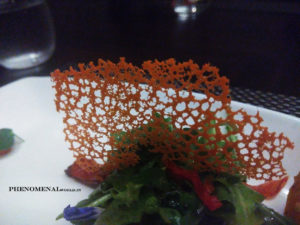 The coral crisp provided an interesting experience.
Antipasti – 
Carpaccio d'anatra affumicata, ravanelli sott'aceto, miele, salsa alla soya
A Smoked, cured duck breast beautifully cooked with an incredible dehydrated apple crisp, pickled radish, honey and soy dressing.  Eaten together it was perfect symphony on the palate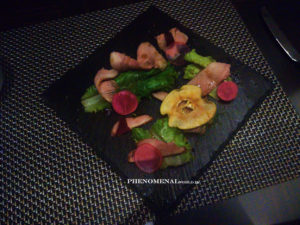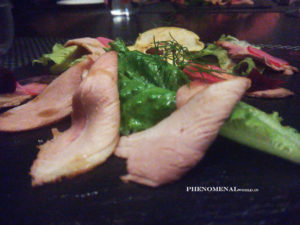 Primi – Linguine aglio, olio e peperoncino (Vegetarian)
Hand made parsley linguine, olive oil and red chilli. Lovely flavor of the linguine. Feel the Nicola magic with this one with the chilli bringing the linguine to life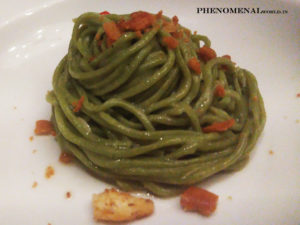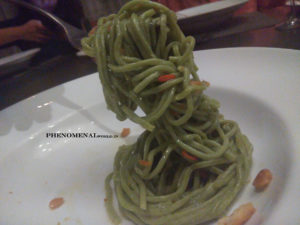 Secondi – Branzino marinato, zucchine in guazzetto
Marinated Seared seabass, zucchini stewed in fresh tomato, olives, capers. The guazzetto sauce made with fish bone stock and tomato was to die for. Packed with flavor and absolutely brilliant.. Capers and olives added a delightful touch and the crispy skin provided the contrast. Eat it fast or the sauce can dampen the skin.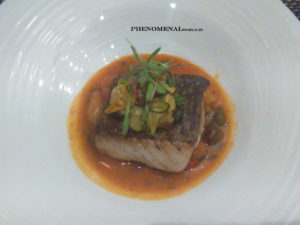 In between all this, there was this bread slices and dip made out of sun dried tomatoes and extra virgin olive oil. Absolutely delicious and we never had enough of it. A good filler in between the dishes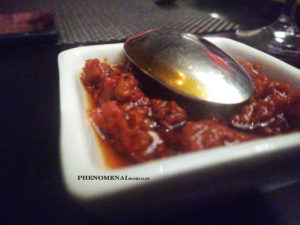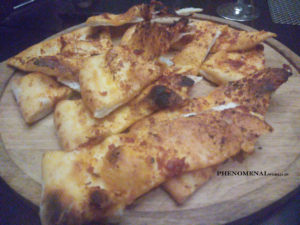 Dolci – Crostata di Frutta fresca
Summer fresh fruit tart.  Though I was stuffed, I had to taste this and good thing I did. Light flaky crust with fresh fruits and custard. Though it was the most plain among all of the dishes it made for a perfect finish!!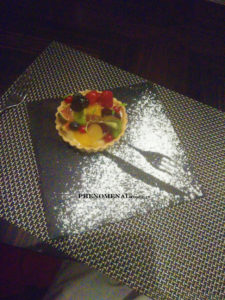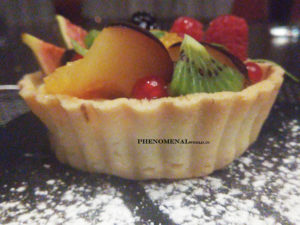 The festival is on till 2 July, 2017 so head there and experience the culinary magic
Find them
Linked to ABC Wednesday (Y) ith Yummy Food