Phenomenal World was part of the Preethi Blogger Jam where introduced to their appliances with demo and one of the most useful session on making money from blogs by Google and Facebook ads and lots of great digital marketing tips by Sorav Jain . Read below for the details
What Happened at the Preethi Blog Jam?
Preethi Kitchen Appliances is a market leader in home appliances and known for their reliable products such as mixie, grinder, food processor etc. We were shown a variety of appliances. The appliances that were demoed were the
Electric Pressure Cooker – The electric pressure cooker priced at Rs 5500 also has a lot of features from cake making to rice, khichdi, soups etc
Food Precessor with grinder and juicer – I was very impressed with the grinder that was heavy duty enough with 750 watts to finely powder turmeric. With options for citrus squeezer and a centrifugal  extractor this can make juices an easy part of your life. It also shreds and chops vegetables and kneads  flour… A super mom basically !
Enjoy the other visuals
Blog Tips by Sorav Jain
A session by Sorav Jain who is a whizz at digital marketing took us through various ways a blog can be monetized.  We were shown how to use Google Ads, Facebook ads and also given lovely tips on choosing the right audience. We were also revealed some of the tips on email marketing and converting the visitors to subscribers. The tools to use for these. All in all a lovely and insightful session on ways to monetize the blog.
What I made with the Preethi Chopper ?
We have all heard of Eggs Kejriwal. Now with AAP coming in, there has also been confusion if this dish was attributed to the man himself. Is it?
Let me assure you.. It's not….  This dish must be as old as  AK man himself !!
History of Eggs Kejriwal
I saw this the first time when I visited Tea Trails. I was intrigued by the name and then went on to find out more about this dish.  I have come across different versions but one common theme is that a man named Devi Prasad Kejriwal  and his love for this style of eggs. However he came from a family of strict vegetarians.  Since he couldn't have it at home he used to visit the Wellington Club and get it done this way. The basic version is fried eggs on a bread sprinkled with green chillies and cheese. Over the years it's taken many twists and turns and everyone now has their own style.
Eggs Kejriwal – My Style
So my style has a lot more ingredients. Here's what I used
Eggs – 1 (actually 2, one on each loaf of bread. If you have a sandwich or a sourdough you can put 2)
Finely chopped onions with their juices removed (We will come to more of this below)
Chopped tomatoes
Chopped green chillies
Chopped coriander
Grated Cheese
I used a small loaf this time since my sourdough stock was over
Using the Preethi Chopper
Coming to point number 2… I was introduced to this by a mallu christian who claimed this was a standard dish at his wedding. It was called challas and it involved adding salt to chopped onions and then squeezing out the juice that was secreted by the onions. This gave it better flavor and also helped cutting down the acidity.  I have tried it before and let me assure you its a painful process if the onions are not finely chopped.  I thankfully had this Preethi Chopper that cut it down to blinding speed. So I took two onions and got it finely chopped under 10 seconds.  Added a teaspoon of salt and let it sit for a minute. Then take these and squeeze them by hand like trying to extract water from stone 😀  Ladies… you could use the husbands. What are they for anyway??
I also chopped the coriander, ginger and chilli and it worked beautifully. A good homogeneous try mixture perfect for mixing with the onions. Add a little vinegar or lime and mix well.  What I really liked about the chopper is the even mixture you get with even little quantities. Notice in the video below the minute quantity of coriander and look at how finely its done
Believe it or not, the hardest part is over !! Here is the video of my experience
How I make my Sunny Side Up
When I make fried eggs, I like it a little cooked on top so it forms a thin layer but runny on the inside the moment you cut through it.  The best way I have seen to do this is
Carefully crack the eggs on the medium hot tawa and sprinkle some red chilli powder and cheese (a tribute to Devi to liked it really HOT).
Add the mixture we made above on one side and chopped tomatoes on the other making sure not to disturb the yolk (I hate yolk that's already broken and not broken on my plate)
Add the grated cheese on this
Sprinkle some water around it and immediately put a cover (glass preferably so you can see it cooking). The steam build helps the eggs to cook on top as well. Leave it for a 1 minute. While you are doing this toast the bread on the lower side so its not too hard.
Put the egg on the bread carefully (guard the yolk with your life till u eat it !!) and then cover it again for a minute again sprinkling the water
Now put the egg on the bread and cover it again for a minute (or lower depending on how runny you like it but look out for salmonella)
Here's how it looks like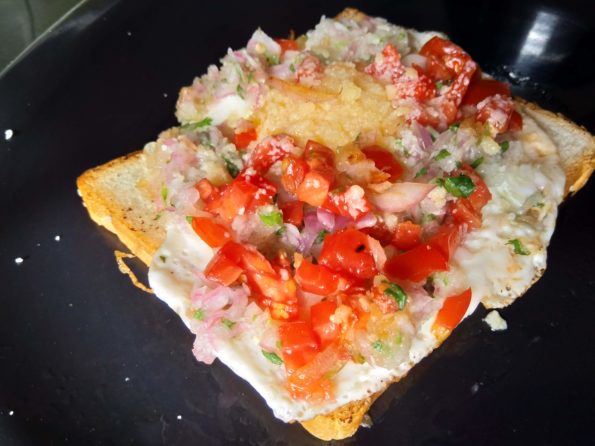 My runny yolk
For larger bread slices and sourdough slices you can do the same thing with two eggs. The cheesier the better of course !!  Try making it yourr way and let me know!