Very few people can say no to chocolates. Moi?  I can survive on dark even during a zombie takeover (I heard zombies hate chocolates !!)  When the aztecs discovered the cacao seed, they made the most important discovery better than sliced bread. They are, in my books, super beings who gave an invaluable gift to the world. We have all known and eaten dark, white (which I don't consider chocolates anyway) and milk  (this too). What if I told you there was a 4th kind?
Ruby Chocolates by Callebaut
Behold the birth of the fourth kind of chocolate!!!. Callebaut chocolates started by Barry Callebaut brings to the world the 4th kind of chocolate after dark (dark) milky and white (sweet). Called Ruby, the flavor of this chocolate has tastes of berries and fruits giving rise to opportunities for interesting creations. The pink color is completely natural and no other colors have been added.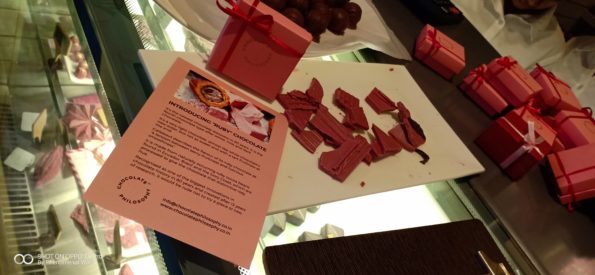 Terroir and Characteristics
This rare and specialized pink chocolate beans are affected by terroir and grows in unique climatic conditions found in Ecuador, Brazil and Ivory Coast. Like hops for beer and grapes for wine this particular bean gives the flavor profile of berries and fruits to the chocolate. Very interesting and refreshing taste.
See the video of an expert describing this chocolate.   The launch took place at Good Earth, Lavelle Road, Bangalore, Karnataka, India
What did I have?
There were these strawberries dipped in melted Ruby Chocolates.  Sigh.. Heavenly is an understatement