#phenomenalworld #travelblog
I love travelling, food and photography. Coorg is a place that allows you to indulge in all of these and in style. Even though I have been to Coorg more than once, I have never recorded my experience in a blog before so here is goes
Coorg is called the Scotland of India for a reason. Something about the weather always keeps you active, healthy and in high spirits (that definitely is the brandy!!).  This post will combine all my trips to Coorg I have done and also a quick account of my activities there.
 The Drive
Coorg is about 250 kms from Bangalore. We started early and thanks to some tips given by another Kodava colleague we bypassed the city of Mysore by cutting across from Srirangapatana towards Hunsur. It's a good drive. For reaching here, you have to take the Virajpet route which will take you through the Rajiv Gandhi Wildlife Sanctuary. It's a beautiful drive all through and especially through the forest. We didn't encounter any wildlife though.  Once we reached Gonikuppal, we called up for further directions.  I have heard the Virajpet route is not that good now so please check before taking this route, The other way is  a round about way by reaching Madikkeri and then reaching this place
Hotels we stayed in Coorg
Stay 1 – Honey Valley (2 days)
The first time I went to Coorg was in 2008 with my better half. We stayed at  Honey Valley, a beautiful homestay run by a lovely Kodava couple, their son and a Canadian named Jack.  At that time they had only cottages.Now they have had a phenomenal growth and have added tribal huts, estate guesthouse and a few guest facilities as well.  It is a 75 acre sprawling land 4250 ft atop a mountain.  The only access is by SUVs and the usual way is to park your puny vehicles below and request them to send in their heavy duty jeep which makes the ride looks easy peasy. Now even the ride is charged I think.
We had taken a cottage for two days and the day we arrived, with us came a cyclone !! It was raining continuously but that did not deter us. In fact I think it made it more fun and memorable. The best part is their private waterfall named Chingaara which was overflowing because of the rain.
There was a common dining area for food and they served the most homely food I have ever eaten (obviously home—-stay, duh) The chef was from Kerala and was very accommodating with food preference. These were not part of the regular menu and had to be paid extra. We had some mind blowing pandi curry here.  The taste of pepper which was really stimulating in the cold and the tanginess of the kachi puli left us drooling for more. The regular good included Kodava delights such as kodabattus, akki roti, chicken curry and regulars such as sambar, rasam and rice. The homemade jams which was served for breakfast was exquisite.  There are so many things you can do within the area that you need not go out at all. They have good maps and activity charts in detail that makes following directions simple. Jack, a Canadian who was managing this homestay   was vwer helpful with things to do and places to go to and the best routes. The dining hall also had lovely books to just curl up and read.
Most of the days were spent on long walks and simply taking in and enjoying the sights and smells  of the area. It had this spicy smell of pines and eucalyptus which was rejuvenating and always kept you active. The nights was brandy and food with the rain occasionally caressing the face.   We were given an option to pack food and trek to Thadiyanamol, the highest point in Coorg and the second highest point in Karnataka but we chose to explore more of the area.
The next day we decided to visit Chingaara waterfall and boy was it raining in full glory. Borrowing some rain coats from the homestay we literally took a plunge through the track to the waterfall and then took an actual plunge 🙂   Now that I think about it, it was a dangerous and foolish thing to do with no one around for help if the situation got a little icky. We were wild then 😀 We went right below the waterfall immersed in water till our waist and it was COLD. A little more frolicking and then it was back to our cottage for a change of dress and getting warm.  The chatter of our teeth could be heard for miles I think in that peaceful silence. It was fortunate the homestay vehicle was on its way to the top and we got a ride back….  After a good respite and time from the busy city life it was time to head back.
Click here for coordinates
Stay 2 – Tent (2 Days)
The second time was with my friends when we came for an adventure camp. It was fun staying in tent and sleeping in tune with nature.  Check Jungle Mount Adventures for details
Stay 3 – HoneyPot Homes (2 days)
A 225 acre coffee plantation, this is one sprawling place. They also offer a free coffee plantation tour which is usually charged for outsiders such as guests from Taj Vivanta and other hotels.  The family that runs this place has been owning the lads for over 150 years. We got our very own duplex  cottage for Rs. 3500 a night. They have a structure built like a tree house which had a fireplace as well and a lovely view. It rained for a while and we had a beautiful experience with the wind blowing the spray of rain into us. My kid's second birthday was spent there with a cake cutting. The fire blazing away in a cold night and Mansion house brandy on the side. Well it certainly was a perfect ending to the day
Please note you will not get pork here as the family who own this place are Muslims. However there are plenty of places to eat in Madikeri.   The coffee is splendid. Obviously it's a coffee plantation.. Meh ! Breakfast is complementary. Average food. Nothing great.  I would recommend a light breakfast and save space for a Kodava lunch.  The same family also run a luxury resort. Click here forcoordinates
Plantation Tour
We experienced both the jeep tour and the walk. I liked the jeep tour that zooms over uneven terrain and that rattles you to the very core of your soul 😀  We saw the sorting that happens, the crushing, the drying, basically the works. Anyway so it is a well run business and we saw the arabica and robusta coffee plant. The family grows more of the arabica variety of coffee.
I also came across the Kopi Luvak, one of the most expensive coffee in the world. The coffee beans are consumed by the civet cat (jungle cat). The skin of these beans are removed during the digestion process and some alchemy happens when the beans travel through the digestive track of the cat. This is supposed to release the flavor of the coffee. The beans are then picked and processed to form the Kopi Luvak !! The last known price was US$3,000 per kilogram !!!! Woo hoo
Good Places to eat in Coorg
Coorg Cuisine – For some traditional Kodava cuisine of kadumbutt (rice balls), akki roti and spicy pandi curry this is a lovely place and the place looks like an old house. The walls adorned with photos of  Field Marshal Cariappa and General  Thimmaiah. Absolutely brilliant food!!. Run by a Kodava family so it's as authentic as it can get. Phenomenally brillliant pork dishes.  Good setup for a family lunch and dinner
For coordinates click here. Call them on 094496 99864
Hotel Churchside –  It's a bar and restaurant. If you are with family….Avoid. Packing the food will be a better option. Don't buy booze from there. There is a retail store right opposite that. Nothing compared to Coorg Cuisine. I would give this a pass.
Hotel Chinamma (Veg) (Not to be confused with the Tamil Nadu one 🙂 ) – A veg place. I didn't go there but from out I did a good crowd going in.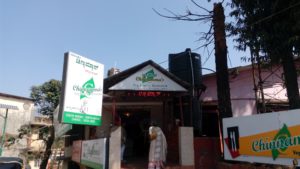 The Fort Mercara – Authentic kodava cuisines in a classy setting.  I am more of a local guy though 🙂
For coordinates click here
East End Hotel – Next to the petrol bunk as you enter Madikeri town, this is a deceptively large place and good setup.
For coordinates click here
There are a lot more but I stuck to these
While you are at it in Madikeri don't forget to get the homemade wines made from local ingredients. They are interesting and diverse. Betel nut leaves, Wild Chili, Basil, Watermelon, Rice, Rose and hibiscus to name a few  🙂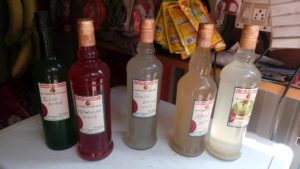 Places to see in Coorg
Raja Seat – It's an extremely crowded sunset point with people trying to find the best spots and jostling with others over it 🙂  Lovely view though!!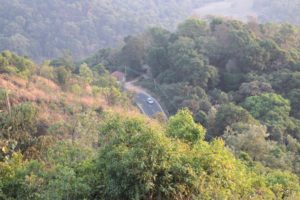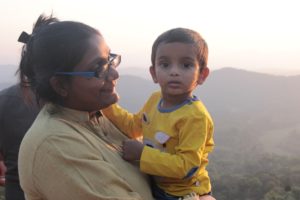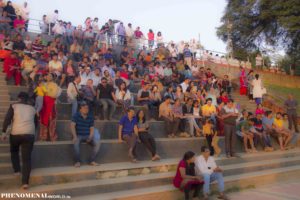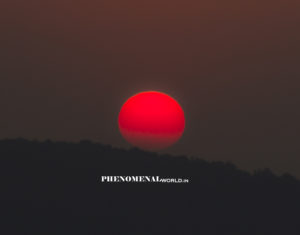 Thadiyanamol – Second highest point in Karnataka. You can find treks arranged by different hotels and homestays. It's an 8 hr trek to get to the top
Abbey Falls – Good during monsoon for some awesome sight of the water falls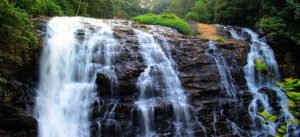 National Parks – Lots of national parks around like Tholpetty,  Nagarhole, Aralam, Bhagamandala. Kabini is around 120 kms from Madikkeri, good for animal sightings especially puma and tiger.
Cheravala – Good for rappelling and there are lots of adventure camps offering thrilling experiences. Went there with my friends and had a trilling time canoeing, trekking, rappelling and at night sitting  with a campfire telling ghost stories and having fine brandy with pandi curry :). Check Jungle Mount Adventures
Thalakaveri  – Birthplace of the mighty river Kaveri. It was very crowded but since it was a moving crowd, we did not have to wait long.  It was deliciously cold and one of the finest experiences I have had seeing  the birth of the mighty Kaveri starting from a spring.  I wish I had snaps for all this. It went up in smoke with my hard drive 🙁 It's so painful when you lose memories such as these no?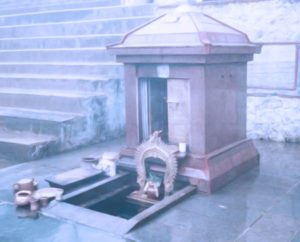 Dubare Elephant Camp – A sanctuary for Elephants where they are fed and maintained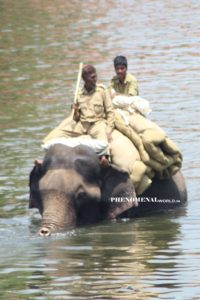 Nisargadhama – There is this awesome nature park here. Get your physical prowess and walking act together since this can leave you winded with the area that you have to cover. However there are tree houses and spots to rest !! Lot of birds for ornithologists. I especially love how the trees have been painted to resemble birds and animals. Amazing skill and imagination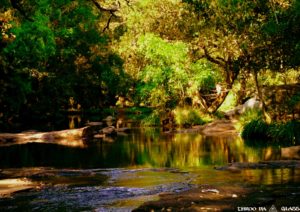 Golden Temple, Namdroling Monastery, Bylakuppe – Bylakuppe is one of the largest Tibetian colonies in India where one of the most beautiful and famous structure, the Golden Temple is located. Thousands of people visit this place and the best time is early morning when there is less crowd. I have been to this place atleast 5 times and it's always an excitement.    Some of the snaps are from my previous visits where I got special permission to access places not usually given to tourists. Enjoy the views of and around the temple.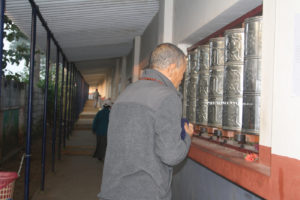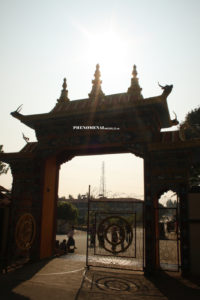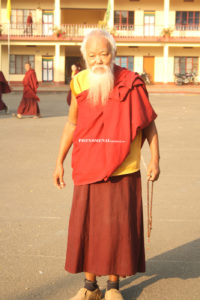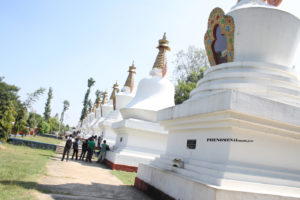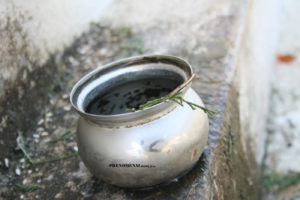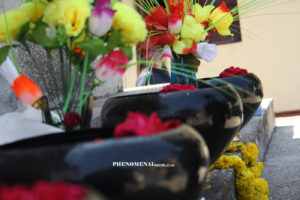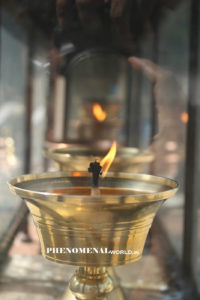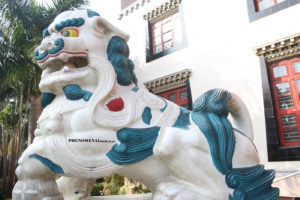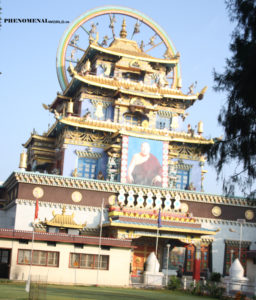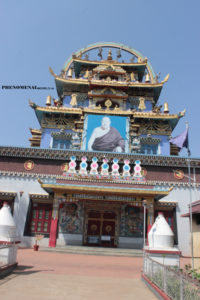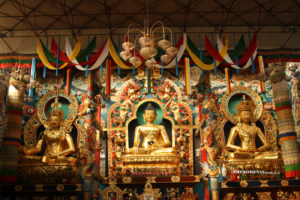 Shopping in Bylakuppe
You can get interesting memorablias, however they are not unique and be prepared to bargain as much as you can. They might appear calm but they snatch your peace 🙂
Places to eat in Bylakuppe
There are two good places one very close to the temple and the other towards the highway in camp 18.
Rigo Restaurant
Lovely quality and quantity, we ordered thukpa which had everything in it, chicken momos and chilli beef. All came to about Rs. 300 plus change. Unbelievable
No alcohol is served
Click here  for coordinates
Potala Kitchen Family Restaurant
We went to this place on our way back to Bangalore. Seems to be preferred by the locals. Decent crowd. I had something called Bhutan Ema Dhasen which is not for the faint hearted. Made with chillies and cheese, this is one HOT dish. Eat it with care.  If you order a momo soup you get this huge bowl of soup with 8 momos in it !! Pretty filling
No alcohol but you do get fruit beer. If you have a sweet tooth you will like it. Click here for coordinates
Well I hope you enjoyed reading my about my travels in Coorg.
Linked to ABC Wednesday(L) with Love, Lovely