I was invited for a different kind of experience. It was to try out the fun live gaming experience  at the Mystery Room.  These games are meant to be played as a group. So off we went, the five of us.
The Concept
The theme of the Mystery Room to escape the room in under 60 mins.  The games available now to experience are Lockout, Cabin in the Woods, Abduction and Hurt Locker. We played lockout which was medium in the difficulty level. This room consists of a jailors desk complete with props (cap, uniform, photos) We will come to the significance of that later. The room also had a jail.  The reason I do not have photos of this room will also become clear
So after signing the forms, we enter this area lit by red lights which already starts giving off a creepy experience. After keeping the valuables and cell phones in the locker provided (yeah no calls for help in this time 😀 ) we were told about the rules of the game and using the props provided.
Three of our group was made to wear handcuffs before we were all locked in the cell and the key thrown away (only in the literal sense).  Once the timer started we had to look around and start figuring out the clues provided. Another reason mobile phones were not allowed and  I put photos. The room is filled with clues. Some very subtle and some so in your face that you miss. You are proved two lifelines if you hit a cul-de-sac and cant proceed further. Checking into FB gave us two more lifelines so make sure you do check in !!
There is continuous moderation by an admin who is connected by a CCTV  so  the entire experience is safe and fun. (yeah you won't be left without water and food although you wish they would if you don't finish he game 😉 )
The puzzles really make you use your grey cells and is very stimulating. It involves a great team effort so its good for friends, family and corporate companies for team bonding.  There are clues provided by the admin if u r in  the right track but unsure to proceed. There is also an option to buy extra time. Rs. 500 gets you 15 mins. After 4 lifelines are used and crosses the stipulated time, game comes to an unsuccessful end unless u want to add extra time. Some of the clues provided are in the poems on the wall which lead to answers to open the numbered locks which hides other clues.   Go ahead and unlock those grey "cells" !!
The Experience
All in all playing in the Mystery Room was a great experience. We finished the game in 59 mins !! With the advent of so many social media platforms and virtual experience, we have become jaded. The human connection and interaction is getting lost and these experiences help us connect and share at a personal level. It is also a great de-stresser for corporate employees again too jaded by their monotonous activities.
Since we completed in under 60 mins we were given Certified Genius Badges !! Yeah we are inteligent when we really need to be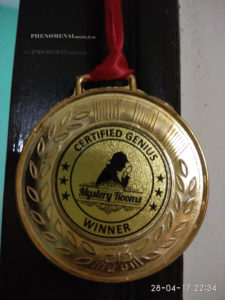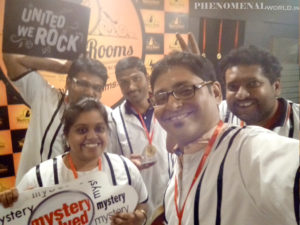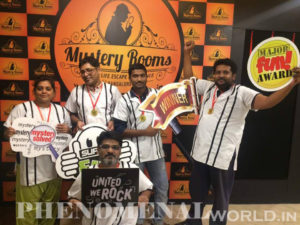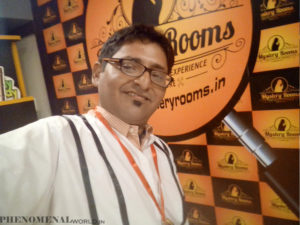 Mystery Room Locations
They are spread across Delhi, Gurgaon, Kolkata, Chandigarh, Ludhiana, Jalandhar, Pune, Goa and Bangalore with upcoming branches are in Hyderabad, Ahmedabad and Chennai.
Other Facilities for Corporate Conferences and Birthday Parties
They provide a conference hall and a larger hall together for Rs. 2750 for 4-5 hrs which is one of the best value for money deals I have seen in sometime.  It is a steal for birthdays which also include decoration ,projector and collage making. One room will cost Rs. 2500.  The food which costs extra is ordered in ready made packages from Jalpan which is another lovely place for food. Non veg and alcohol strictly not allowed.
Mystery Room Gallery
Mystery Room Corporate Packages
They do have good corporate packages. Here are the details
S No.
Item
No. or Cost
Package A
Package B
Remarks
1
No. of Players
15
Minimum. For team size of less than 15, kindly contact us
2
Cost Per Player
450
700
For Escape Games and Mad Min Games + Karaoke (In Package B)
3
Cost for All Players
 
 
 
** Discounted Price for Corporates. (Even though our Minimum group size is 18 for corporates)
4
Mad Minute Games
Included In Above
Total Duration 30 minutes, For 5/6 games, 3 round each, each round 1 minute, amongst 2 teams in our
dedicated Mad Minute / Coprorate Area. In Mad Minutes Teams compete against each other
5
Karaoke Room
 
 
Included In Above
30 mins complimentary only for Corporates from our side, in our Karoke Room 
6
Additional If required
 
 
7
Food Per Person
230
230
Fixed Menu Packed Thali from our premium Food Partner, Bhartiya Jalpan 
(a premium Food and Sweet Shop on 100 ft road, Indiranagar)
~ 2 Subzi, 1 Dal, 2 Naan/Tandoori Roti, Raita, Salad, Pickle, Papad, Sweet
Total Net
680
930
or Food can be arranged as per your liking and can be arranged by the customer also.
The Above package includes
– Welcome Drink,/Sandwich and Chips
– Mystery Rooms Gold Medal for players of Escape Room Winners
– Photo session to document your escape
– 20 % Discount Coupons for Chilis American Grill & Bar (Restaurant conditions apply; 1 per winning team)
Go ahead have fun and let know your experience.
Contact Details
No. 1133, 2nd Flr, 100 Ft. Road, Indira Nagar, (Opposite the Black Rabbit, Vapor Pub), Bengaluru, Karnataka 560038
Phone: 080-48521550, 9164982389, 8123205806
Email: bangalore@mysteryrooms.in
http://www.mysteryrooms.in/bangalore/