Phenomenal World attends a valentine dinner with a different concept of celebrating motherhood than the swooning couples. Maia – Eat Bake Mom is unique in its approach of having recipes shared by mothers and making them feel special.
Ambience
The place was well lit and cheery unlike the  romantically dark places.  Since it celebrates motherhood, I went with mine of course and was on my best behaviour :D. There is a bakery too and they plan to start making their own cheese to be used in their recipes.  My fav was this table that was open to nature but still not.  There is a feeding room for young mothers which I thought is a necessary feature anywhere.  The decorations all were tastefully done and not an eyesore.
The Food
The Valentine's Day special had a 5 course meal.   Though I had a bit of everything on the menu as part of the invite, somethings that stood out.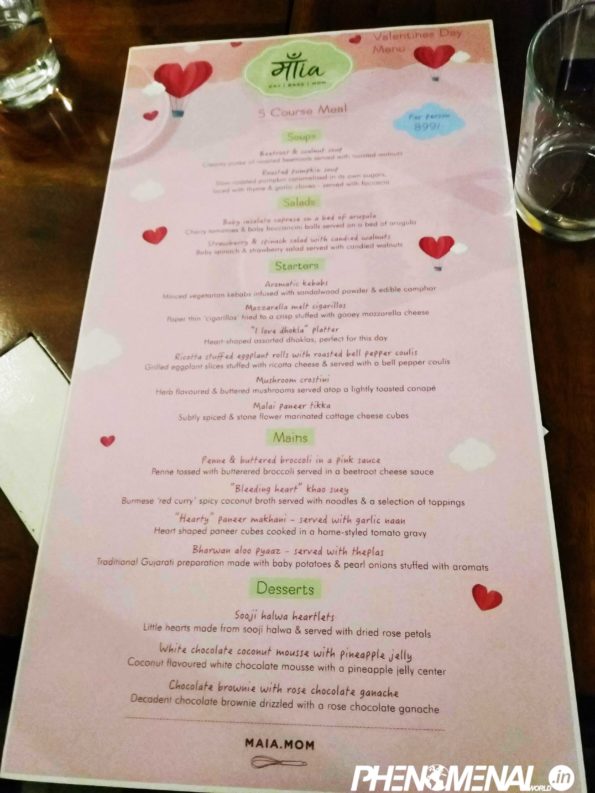 1. Popcorn caramel shake – For those with a sweet tooth and kinds, this is a winner with sweet and salt caramel flavor.
2. Strawberry and spinach salad with candied walnuts – It was an interesting mix of contrasting flavors. The tanginess of the strawberries mixed well with the candied walnuts as well as the salted spinach.
3. Mozarella Melt Cigarillos – A sure winner this was and absolutely melt in the mouth
4. Heart shape dhoklas –  I found this cheesy and corny and an interesting dish for the valentine couples.
5. Mushroom Crostine – Loved the crunch and flavor. Continental spices
6. Mala Paneer tikka – well marinated and grilled paneer.
7. Penne & buttered brocolli –  I liked the  rich flavor and subtle spices used in the pasta and my kid has his fill too
8. Sooji Halwa hearlets – Well made. Not too sweet, exactly as I like my desserts.
9. The brownie with the ganache was decadent and must have
Last but not the least it was fun talking about the event to RJ Bhavika from 93.5 who was there to cover the event as well. Signing off with our snaps
Rating
Find them on Zomato